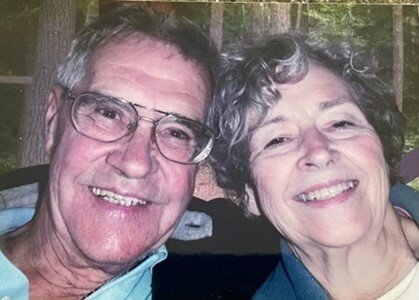 Obituary of Dawn Marilyn Chadbourne
Dawn Marilyn Chadbourne (Jessop) (1936-2023) Age 87- leaves behind her children Dennis, Dayle (Pat), Dave (Cindy), Valerie, Derek and her grandchildren Caitlin, Carly, Alexander, Ben, MacKechnie, Jack and great grandchild Laramie. Also grieving our loss are her brother Scott and wife Julie and brother in laws Mark and Carol.
Dawn was predeceased by her husband Jack Chadbourne, her parents William and Dorothy, her daughter Linda (Bob) and grandson John Cody (Dayle/Pat).
Dawn was a wonderful example of a dedicated mother and wife, Christian and a good friend. She always had time for others and was there to listen to someone in need.
Dawn was a creative person, avid baker, volunteer, collector of miniatures and collectables, most of all she enjoyed her family.
Dawn was born in North Bay, Nipissing Ontario. In her younger years Dawn enjoyed figure skating, volunteering and school.
Dawn was a loving mother of 6 children and a person with great entrepreneurial spirit as owner and operator of the Babysitting Agency and later on as a business owner (Trout Lake Marina) with her husband Jack Chadbourne and worked as a Personal Support Worker for the aged at Cassellholme LTC.
Dawn was a caring person within a Christian faith. Dawn and Jack were faithful and active members of Omond Memorial United Church.
Dawn was a faithful member of Fidelis Chapter No. 99, Order of the Eastern Star in North Bay, Ontario for over 50 years. In recent years, she became a member of Algoma Chapter No. 139 in Sudbury, Ontario.
Dawn's grandparents, Mr. and Mrs. Jessop were the very first Worthy Matron and Worthy Paton to serve Fidelis Chapter. Carrying on this fine family tradition, Dawn and her husband Jack, served as Worthy Matron and Worthy Patron of Fidelis in 1979/1980.
Dawn was a vital and active Fidelis member and assumed the role of several Offices in her Chapter. In addition, she served the Grand Chapter of Ontario as Grand Representative to Connecticut in Ontario in 1992 for a 2 year term.
Dawn was deeply beloved and respected by her fellow Eastern Star Sisters and Brothers and will be greatly missed by all.
A celebration of life service will take place at the Martyn Funeral Home in North Bay on Saturday, November 4th, 2023. Scheduled greetings at 10 am, followed by Eastern Star, Christian services at 12 noon, and burial at St. John's Cemetery with her husband Jack Chadbourne at 3pm
A special thank you to the Home and Community Support Services staff and the staff at the North Bay Regional Health Center and Cassellholme LTC.
In lieu of flowers, donations can be made in Dawn Chadbourne's name to Omond Memorial United Church or the North Bay Alzheimer Society of Sudbury-Manitoulin North Bay & Districts.
Online condolences can be offered at www.martynfh.com