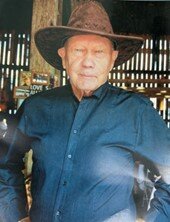 Obituary of John Ernest Lunn
John 'Coach' Lunn
On September 9th, 2023 John Ernest Lunn passed away peacefully in his 86th year with his grandson Ryan, the Chaplain and his minister at his bedside. John is predeceased (2016) by his loving wife Joan (2016) of 57 years. He will be greatly missed by his daughter Sandra (Brian) and his grandchildren Ryan, Matthew and Kent. He will also be missed by children Daniel and Heather, his grandchildren Jonathan, Alisha and Cassandra, and 7 great grandchildren.
Dad led a very full and interesting life. He began his teaching career at a high school in Atikokan, Ontario. Dad ran the Outdoors club at the high school where he organized two-week canoe trips for the students into Quetico Provincial Park. He always had a love of the outdoors and nature. The family spent many action-packed winter weekends at dog sledding events with our Siberian huskies. While teaching in Atikokan, dad built the family cottage on Eva Lake and many happy times were spent there.
In 1975, the family moved to North Bay where dad was a high school teacher at West Ferris Secondary School for many years. He was highly respected as an educator and as the Junior Trojans Football Coach. Even many years after retirement, his former students still greeted him as 'Coach' and he was always happy to chat with them.
Dad was a long serving volunteer with the Heart and Stroke Foundation, Nipissing Manor and the Cancer Society. He was always organizing an event such as seniors' trips and music concerts. He also volunteered his time at St. Peter's Anglican church in Callander for almost 50 years.
John and Joan traveled to the Caribbean island of Anguilla where John was invited to teach for one year. Dad was a very talented artist, and created many beautiful paintings, sculptures and carvings that he lovingly made. John also loved his gardens and took great joy in taking his many friends on a 'tour of the garden.'
John was always fun-loving with a zest for life. He enjoyed dressing up as Santa Claus for the grandchildren at Christmas and as the Easter Bunny for the church events at Easter. He never missed the opportunity to break out the karaoke machine. Dad always had a project on the go and stayed active his whole life.
A very special thank you to the Preferred Care team, especially Cindy, Keyanna, Leslie, Carolyn and Jessica for the excellent care they provided to our dad.
The funeral service will be held on November 4th, 2023 at noon at St. Mary's Anglican Church, 16 Memorial Park Drive, Powassan, Ontario followed by light refreshments. In lieu of flowers, donations to the Alzheimer's Association or the West Ferris Coach John Lunn Scholarship would be appreciated.
To send flowers to the family or plant a tree in memory of John Lunn, please visit Tribute Store
Memorial Service
St Mary's Anglican Church
16 Memorial Park Dr E,
Powassan, ON , Ontario, Canada
(705) 724-5217