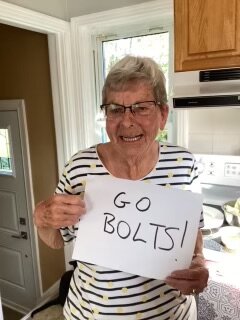 Obituary of Frances Rose Merriman
Frances Rose 'Fran' MERRIMAN (née Brown)
August 16, 1939 – August 28, 2023
Fran passed away peacefully on August 28, 2023 at the Nipissing Serenity Hospice with her family by her side.
She was the beloved wife and best friend of the late Victor Merriman, dear mother of Kathy (husband Bill Adair) of Ottawa, Don (wife Christine Green) of North Bay, and cherished and proud "Gramma" of Sophia Merriman.
Predeceased by her parents, Stan and Rose Brown, survived by her brother David and many loved cousins, nieces and nephews.
At age 16, Fran graduated grade 13 and then continued to St. Joeseph's Nursing school in North Bay and graduated at the young age of 19. Fran had a very successful nursing career; one she was very proud of before moving to Vancouver with her husband Vic in 1965. They were transferred to Australia in 1967 and in 1975 they returned back to North Bay where they remained. When Fran's nursing career ended, she took on a new role of being a mother, homemaker, along with hosting many successful business events for Vic and Longyear. This also included many parties and gatherings with friends and family. Fran was fortunate enough to spend over 30 years wintering in Florida, making friendships and partaking in great parties and golf games.
Fran was known to all for her socializing, helping others, story telling and ensuring everyone truly enjoyed themselves.
Friends may call at the Martyn Funeral Home on Saturday September 16th, with visitation at 10:30am and the memorial service at 11:00 am. Inurnment of ashes will be held at the All Saints Mausoleum.
In lieu of flowers donations can be made to the Nipissing Serenity Hospice in memory of Fran Merriman. (Donate Now Online: Please Help Us Serve The Community - Nipissing Serenity Hospice)