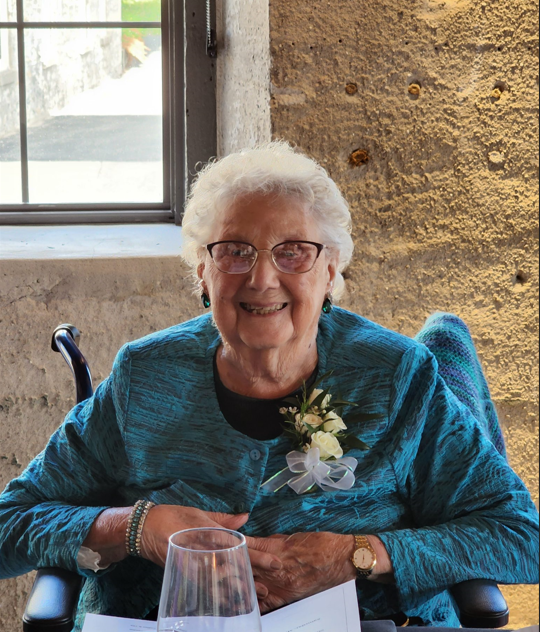 Obituary of Mary MacDonald Fiss
Mary (Molly) MacDonald Fiss, with family at her side, passed peacefully into the presence of her Lord and Savior Jesus Christ on Friday, Mar.03, 2023 at Lisaard House Hospice in Cambridge, ON. Molly was in her 97th year. She was the beloved wife of her late husband, William "Harold" Fiss, who passed away on May 6th, 2015. They enjoyed 64 years of marriage together.
Molly had a kind and caring heart towards others. Most recently, she was recognized by the City of Cambridge for her work over the last 4 years knitting warm hats for children in different regional organizations and providing handcrafted Christmas ornaments to those in area nursing homes. Over her lifetime she served at several Bible Camps, most notably Camp Aush-Bik-Koong, and was very involved at Bethel Gospel Chapel in North Bay. She managed the Maranatha Bible Bookstore in North Bay during the 70's and into the 90's and was big on providing hospitality in her home to others. She was an example of service and commitment for others to see. Molly leaves a great legacy of caring and service toward others as unto her Lord.
Her family includes her Children: Terry Fiss – deceased Dec 2019 (Alice) of PEI, Cathy Scott (Jeff) of Cambridge, Gordon Fiss (Brenda) of North Bay and Greg Fiss (Leslie Dawn) of Kitchener. Grandchildren include: Matthew Scott (Katy), Meghan Stock (Gordon), Michel Fiss (Joanna), Jason Fiss (Hillary), Tracey Fiss, Tyler Fiss (Kristen), Blaine Fiss, and Kelsey Godsey (Curtis). Great Grandchildren include: Dean, Grant, Jesse, Leena, Atlas, Viola, Leila and Miles along with many Nieces & Nephews and their families as well. Molly was predeceased by her parents, John and Mary Weir and her siblings and their spouses: Robina Hicks (Fred), Frank Weir (Marie), John Weir (Cathy), and Marion Boden (Austin).
All events will be held at Bethel Gospel Chapel in North Bay on Saturday, March 11, 2023. Visitation will be from 10:30 am – 12:30 pm. Funeral Service will follow at 1:00 pm – 2:00 pm. The event will be live streamed at https://www.youtube.com/bethelnorthbay.
In Lieu of flowers, it was mom's desire that donations be directed to the following: Bethel Gospel Chapel in North Bay, Camp Aush-Bik-Koong, Missionary Service Committee Canada, Samaritan's Purse Canada, Our Daily Bread Ministries Canada or Lisaard House Hospice, Cambridge, ON.
"Absent from the body… present with the Lord" 2 Corinthians 5:8
To send flowers to the family or plant a tree in memory of Mary Fiss, please visit Tribute Store
Public Visitation
10:30 am - 12:30 pm
Saturday, March 11, 2023
Bethel Gospel Chapel
781 Tackaberry Drive
North Bay, Ontario, Canada
Funeral Service
1:00 pm - 2:00 pm
Saturday, March 11, 2023
Bethel Gospel Chapel
781 Tackaberry Drive
North Bay, Ontario, Canada