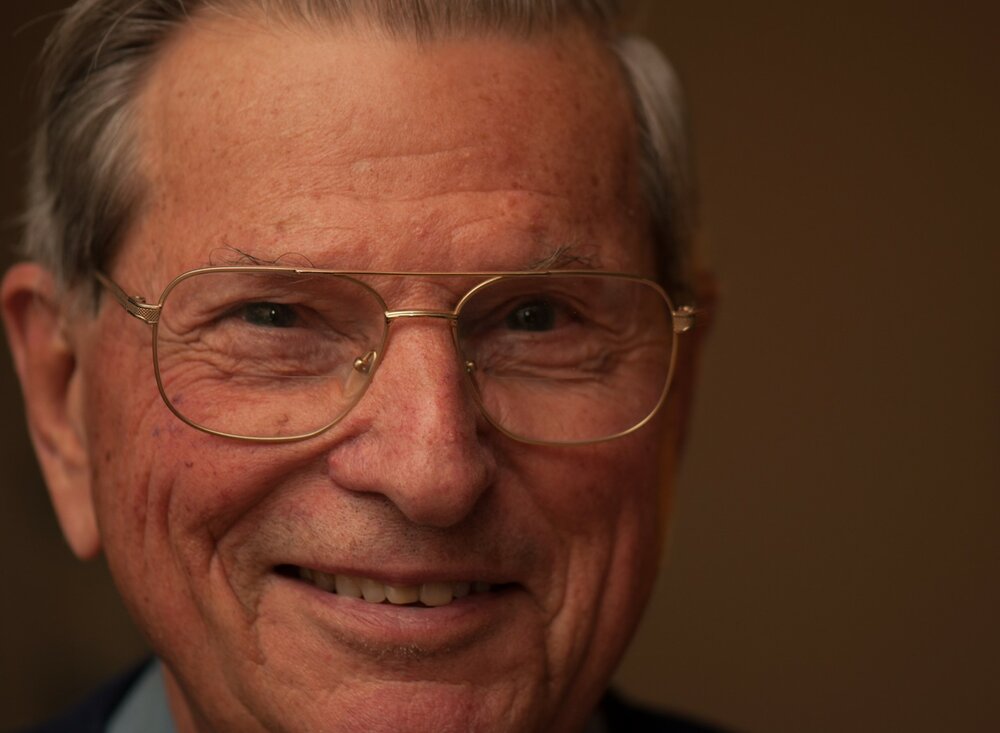 Obituary of Donald James Euler
Donald James Euler – It is with heavy hearts that we announce Don's passing on August 29, 2022 at the age of 96. Don is survived by his son David (Patricia), grandsons, Eric and Kenneth (Jessica), great granddaughter Eleanor, and close family friends Deborah and Reg Coates. He was pre-deceased by his wife Joan, son Brian, his parents, Lothar and Christina Euler and his sister Bernice Gantt.
Don was born in Dryden in 1925. Just 6 years later, his mother died leaving Don and his one-year-old sister to be raised by their father and other close family members.
After serving in the army in 1944 and 1945, Don studied engineering at the University of Toronto and graduated in 1949. After graduation he accepted a position with Abitibi Power and Paper Company in Iroquois Falls. It was at this time that he met the love of his life, Joan.
Although he enjoyed the challenges of working at the mill during the modernization, after seven years his entrepreneurial spirit pushed him to move to North Bay and in 1957 he and Murray McLean founded Northland Engineering. Don's entrepreneurial drive created many varied businesses including Meldon Construction, Donbay Industries, and Donson Engineering and its various spinoffs.
Don was a very community-oriented person with keen interest in supporting post secondary education in North Bay. He was one of the founding board members of Nipissing University and sat as a member of the Canadore College board for many years including Chairing the board from 1977 to 1979. Don also Chaired the Widdifield School board before amalgamation with the other boards. Don was also a long-term member of the Rotary club and honoured as a Paul Harris fellow.
Don's life was filled with adventure, and he loved to share his stories. As a boy growing up in Dryden, fishing and hunting; training for the army and playing trombone in the army band; travelling on business to Africa. He and Joan travelled all over the world and cherished their time with their German relatives in Florida during the winter. Every spring Don would look forward to the annual "guys" fishing trip to Kipawa. Cooking and consuming pickerel at the shore lunch was always a highlight.
Don lived independently at Harbourside until 6 weeks ago. Several months ago Don agreed to check out a local retirement home. When it was time to sign the papers, he said, "I don't think so, my friends are here at Harbourside".That was that. More help was arranged, and we moved on. It is a special thing to live independently into your 97th year. He made all the right decisions. Don will be missed by many, but his legacy lives on. Life's race well run; Life's work well done.
Don's Family will receive friends at the MARTYN FUNERAL HOME on Sunday, September 4th 2022, from 2:30-5:00 pm. THE FAMILY WOULD ASK THOSE ATTENDING THE VISITATION TO WEAR A MASK WHILE IN THE FUNERAL HOME AND TO PLEASE RESPECT SOCIAL DISTANCING. Cremation will occur following the private service, and a private burial will occur later in the family plot at Terrace Lawn Cemetery. In lieu of flowers, donations can be made to the Nipissing University Euler Scholarship Fund.
To send flowers to the family or plant a tree in memory of Donald Euler, please visit Tribute Store
Public Visitation
2:30 pm - 5:00 pm
Sunday, September 4, 2022
Martyn Funeral Home
464 Wyld Street
North Bay, Ontario, Canada
705-472-8810
THE FAMILY WOULD ASK THOSE ATTENDING THE VISITATION TO WEAR A MASK WHILE IN THE FUNERAL HOME AND TO PLEASE RESPECT SOCIAL DISTANCING.