Recommend Judith's obituary to your friends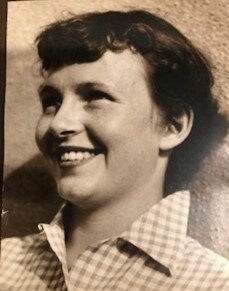 Obituary of Judith Margaret Carol McDonald
Judith McDonald
With heavy hearts, we sadly announce the passing of our mother Judith McDonald on Wednesday, June 29th, 2022, in her 84th year. Judy leaves behind her children Allan (Wendy), David, and Lisa (Butch). Her adored grandchildren Bailey Puddister (Matt), Charley McMahon (Nate), Joey Puddister, Khouri Long (Marc), and their children Kaedyn, Briir, and Khov. She was predeceased by her parents Bernie & Thelma Donovan, and all her animals who we know have been waiting and greeted her with sloppy kisses.
Our mother was a strong independent woman that cared deeply for her family and friends. She was the glue that kept our family together and was always there for us no matter what with unconditional love.
Our mom was an author, and as a family, we celebrated that. In keeping with her passion for writing, we wanted to share her story in her own words that she wrote before her passing and left the note where we would certainly find it. She wrote:

I would like people to know I was always a basically happy person with a zany sense of humor including a lot of self-depreciation. I loved and fostered all kinds of animals, the more the merrier.

I had a vast collection of music and read a wide variety of books including biographies, psychology, and true crime stories. I always liked challenges which helped me greatly to finish both the inside and outside of my home which I always referred to as "my slice of heaven" and wanted to die there since day 1.
I started writing in high school, but my real dream came true when I published my first book in 2008, all 560 pages. My editor Ann Savage encouraged me to write a sequel which is in progress.

All things considered; I had a wonderful life. I traveled all over Europe and North America meeting lovely people from all walks of life and had many lifelong friends.

The highlights of my life were my three children, Allan, David, and Lisa who were equal in my heart and eyes, each a star, who were always there for me. My grandchildren Bailey, Charley, and Joey were the colorful icing on my cake.
For the last 29 years of my life, I truly felt blessed and at peace with the world. For my funeral, I don't want everyone to be sad and I don't want everyone in dark clothing-lots of color, please!
We extend our deepest gratitude to Dr. Kirsty Locke and Dr. Elena Kolb for their devoted, compassionate care, and to Dr. Kristin Rogers and the wonderful staff at Nipissing Manor who cared for and ensured her comfort these last months. We are thankful she shared her room with Monica Allard, who is truly an angel on earth. Our heartfelt appreciation goes to her friends and neighbors who for years watched out for her while she continued to live independently.
To honor Judy, please offer kindness to a stranger or an animal. In lieu of flowers, she has requested donations made to All Heart Pet Rescue or donations of pet food to the food bank so those less fortunate are able to keep and care for their beloved animals.
Judith's family will receive friends at the Martyn Funeral Home on Monday, July 11th from 3:00 - 6:00 PM. A Memorial Service will be held at the Martyn Funeral Home Chapel on Monday, July 11th at 7:00 P.M. Cremation at the Forest Lawn Crematorium. Online condolences can be made at www.martynfh.com
To send flowers to the family or plant a tree in memory of Judith McDonald, please visit Tribute Store
Memorial Visitation
3:00 pm - 6:00 pm
Monday, July 11, 2022
Martyn Funeral Home
464 Wyld Street
North Bay, Ontario, Canada
705-472-8810
Memorial Service
7:00 pm - 7:40 pm
Monday, July 11, 2022
Martyn Funeral Home
464 Wyld Street
North Bay, Ontario, Canada
705-472-8810