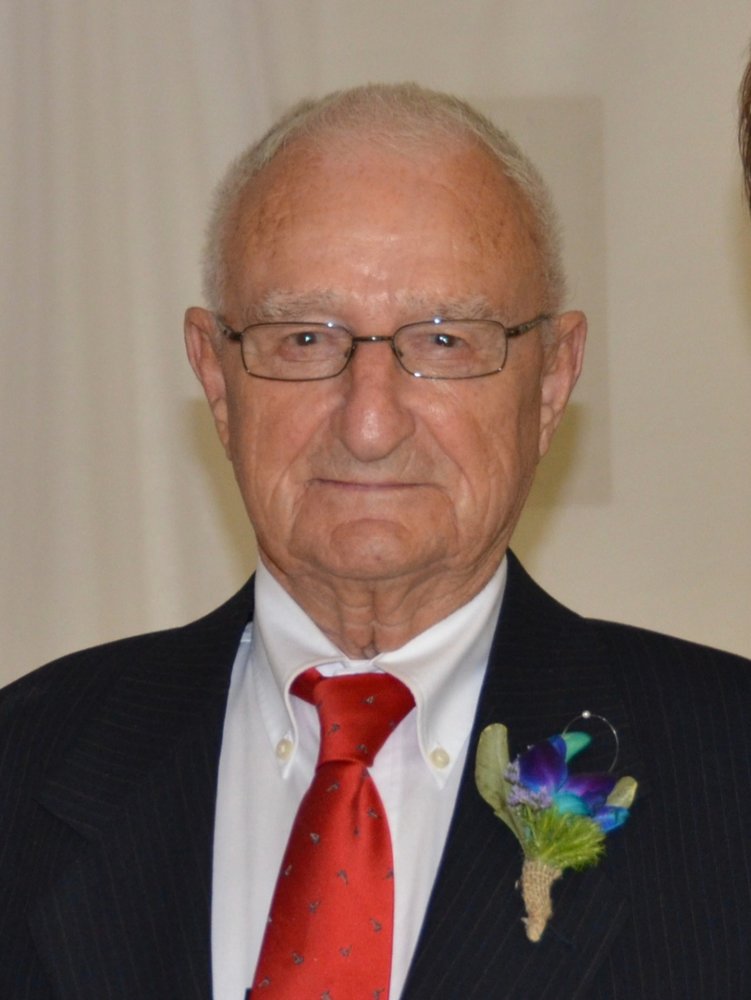 Obituary of Rosaire Boulanger
BOULANGER Rosaire (1927-2021) - est décédé paisiblement à la Maison des aînés Algonquin à Mattawa le mardi 3 août à l'âge de 93 ans. Il rejoint au paradis son épouse bien-aimée Laurette (née Miron), ainsi que ses parents, Eugène et Ozéma, née Bissonnette. Cher père de Rhéal (Linda) de North Bay, Pauline (feu Gerry Dupuis) et Michel (Denise) de Mattawa, Mariette (Glen Miller) de Deep River et Marcelle (Joseph D'Onofrio, feu Carman Wilson) de Kingston. Son souvenir restera gravé à jamais dans la mémoire de ses 10 petits-enfants, 21 arrières-petits-enfants et 3 arrières-arrières-petits-enfants. Il laisse dans le deuil ses soeurs et frères, Jeanne d'Arc (feu Willie), Georgette (feu Joseph), feu Gérard, feu Bruno (feu Gwen), feu Paul-Émile (feu Jeanne), feu Lucille (feu Armand), feu Gabrielle (feu Roland). Il manquera à ses nombreux neveux et nièces, à sa famille élargie ainsi qu'à ses amis. Rosaire a servi la communauté de Mattawa pendant de nombreuses années, ayant eu une longue carrière de garagiste, mécanicien et propriétaire. Il était membre honoraire des Chevaliers de Colomb de Quatrième Degré, membre du Club Lions et la Légion de Mattawa. Laurette et Rosaire étaient des membres impliqués dans plusieurs œuvres de bénévolat de la paroisse Ste-Anne et de la communauté de Mattawa. Il y aura des visites de condoléances à la maison funéraire Martyn & Sloan à Mattawa le mercredi 11 août 2021 de 14h à 16h et de 19h à 21h. Les funérailles auront lieu le jeudi 12 août à 13h00 à la paroisse Ste-Anne. Conformément au protocole de la Covid, les personnes présentes doivent porter un masque et pratiquer la distanciation sociale. Des dons à la Maison des aînés Algonquin ou le cimetière Ste-Anne de Mattawa seraient grandement appréciés en signe de condoléances. La famille tient à remercier le personnel de la Maison des Aînés Algonquin pour leurs excellents soins et leur accueil chaleureux.
BOULANGER Rosaire (1927-2021) – passed away peacefully at Algonquin Nursing Home in Mattawa on Tuesday August 3rd, 2021 at the age of 93. He joins his beloved wife Laurette in Heaven. Dear father of Rhéal (Linda) of North Bay, Pauline (Gerry Dupuis, predeceased) and Michel (Denise) of Mattawa, Mariette (Glen Miller) of Deep River and Marcelle (Joseph D'Onofrio; Carman Wilson, predeceased) of Kingston. His memory will always be in the hearts of his 10 grand-children, 17 great-grand-children and 3 great-great-grandchildren. He leaves to grieve his sisters: Jeanne d'Arc (Willie predeceased) and Georgette (Joseph predeceased), and other siblings who are predeceased: Gérard, Bruno (Gwen), Paul-Émile (Jeanne), Lucille (Armand), Gabrielle (Roland). He will be missed by many nieces and nephews, extended family and friends. Rosaire was a well known member of the town of Mattawa, having lived there all his life and had a long and wonderful career as a mechanic and owner of gas stations. He was an honorary member of the Knights of Columbus of the Fourth Degree, member of the Lions Club and the Mattawa Legion. Rosaire and Laurette were involved in many charitable organizations linked to Ste-Anne's Catholic Parish and the town of Mattawa. Visitations at Martyn & Sloan "Mattawa Chapel" on Wednesday, August 11th from 2 to 4 and 7 to 9 p.m. A Funeral Mass will be celebrated at Ste-Anne Catholic Church on Thursday, August 12th, 2021 at 1 p.m. In keeping with Covid protocol, those attending must wear masks and practice social distancing. As expressions of sympathy, donations to the Algonquin Nursing Home or Ste-Anne's Roman Catholic Cemetery would be greatly appreciated. The family wishes to extend sincere gratitude to the staff of the Algonquin Nursing Home for their kindness and excellent care.
To send flowers to the family or plant a tree in memory of Rosaire Boulanger, please visit Tribute Store
Visitation
2:00 pm - 4:00 pm
Wednesday, August 11, 2021
Martyn & Sloan 'Mattawa Chapel'
530 McConnell Street, Box 470
Mattawa, Ontario, Canada
705-744-7400
Visitation
7:00 pm - 9:00 pm
Wednesday, August 11, 2021
Martyn & Sloan 'Mattawa Chapel'
530 McConnell Street, Box 470
Mattawa, Ontario, Canada
705-744-7400
Funeral Service
1:00 pm - 2:00 pm
Thursday, August 12, 2021
St. Anne's Church
Eight Street
Mattawa, Ontario, Canada