Recommend Gerard's obituary to your friends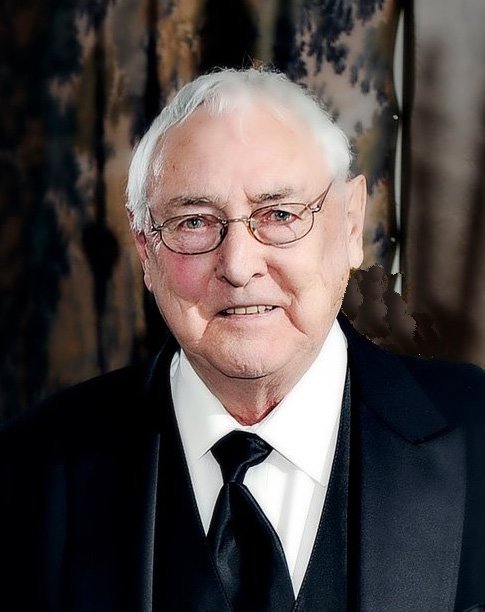 Obituary of Gerard Dennis Larmer
Gerard Dennis Larmer ("Gerry") died peacefully on Tuesday morning, June 4, 2019 at the age of 93 surrounded by his children at Nipissing Manor in Corbeil, Ontario. Gerry was predeceased by his first wife, Grace (Latham), his second wife Eileen (Varley), his parents Margaret (McKay) and Patrick Larmer, his sister Moira Canie and his brother, Patrick Larmer. He is survived by his daughter, Susan Larmer, his son, Geoffrey Larmer, and his grandchildren, Noah, McKay and Ronan all of North Bay.
Gerry was born in Hamilton, Scotland, before crossing the Atlantic as an infant to settle with his family in Timmins, Ontario, after The Great War. He proved himself a gifted athelete while attending Scollard Hall in North Bay competing in track, football, basketball and hockey. But it was hockey where he excelled. Following high school, he was offered a professional hockey contract but was convinced to pursue a higher education instead. He went onto play senior hockey in both Kingston and Toronto while he attended school at Queen's and U of T (St. Michael's College). He enjoyed great success playing for legendary hockey coach Ace Bailey's University of Toronto Varsity Blues winning National and North American championships.
After Teacher's College, Gerry returned to Scollard Hall to begin his teaching career. Shortly after Chippewa Secondary opened its doors in North Bay, he started teaching mathematics and continued teaching generations of high school students as a Raider up until his retirement. While teaching, Gerry coached the high school hockey, curling and basketball teams. He was active in local, provincial and federal politics. He sang in the men's choir at the Pro-Catherdral of the Assumption. And he was an avid downhill skier, golfer and competitive curler.
Even with all his work and volunteer commitments, Gerry still had time to pack up the old fake wood paneled station wagon and take the family on bi-annual trips through eastern Canada and the United States, where we would learn a little North American history, a few bad jokes and how to downhill ski. Gerry dearly loved the home he had built on Trout Lake where he could be seen puttering in his gardens and driving his cedar strip boat down to Turtle Lake. He had a wickedly sarcastic sense of humour, was a tremendous amateur cook and loved to entertain and laugh with his many cherished friends. He will be dearly missed by his family who are quite confident that he is now savouring a rusty nail while watching the snow fall among the cedar trees or sipping an exceedingly dry martini as the waves roll under the dock, somewhere in the great beyond.
The Larmer family wish to thank the staff of Nipissing Manor for their kind and loving care. And to the wonderful attention and compassion shown Gerry in his final years and weeks by Dr. Rick Senior and Dr. Michael Leckie.
Respecting his wishes, there will a celebration of Gerry's life at the Grande Event Centre on Friday June 21st from 7-10 pm.
If so desired, donations to a scholarship fund in Gerry's memory to provide financial assistance for students with learning disabilities would be very much appreciated. Cheque's can be made payable to: Near North District School Board, Gerry Larmer Memorial Scholarship Fund.
To send flowers to the family or plant a tree in memory of Gerard Larmer, please visit Tribute Store
Celebration of Life
7:00 pm - 10:00 pm
Friday, June 21, 2019
the Grande Event Centre
192 Main Street East
North Bay, Ontario, Canada