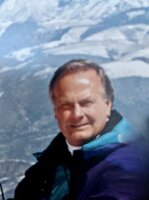 Wellesley Bruce Barber
September 7, 1939 – October 29, 2022
Bruce passed away peacefully with his two sons at his side at Montfort Hospital, Ottawa Ontario on October 29, 2022.
Born in Timmins Ontario to Wellesley & Emma Barber (Simpson) and Survived by his brother Rolly, sons Rob (Ann), Mat (Jill) and loving grandchildren Brad (Anna), Breanna, Kate, Julia, and great-grandson Filip Barber.
Bruce's family moved from Timmins to Callander in 1952, where Bruce spent the majority of his life (North Bay/Callander). He grew up in a loving community with many aunts, uncles and cousins too many to count. They were a family of caring, unique individuals whose strong ties remained throughout his life.
Nothing made Bruce happier than spending time with his family and friends, especially when gathered in groups. Times surrounded by his grandchildren at holidays, celebrations and family reunions were his fondest memories. Summers on the south shore of Lake Nipissing were always the highlight of his year.
Bruce worked for decades in the sporting goods business as a sales agent. He made many life-long friends in the industry from across the country.
He loved sailing, skiing, seadooing, fishing trips with his brother and cousins and taking his kids to hockey practice or skiing.
Bruce was loved and will be fondly remembered for his humour, kindness, and infectious laugh. Many of his closest friends and family will remember his strong opinions and arguing with passion - often ending in amusing profanity.
A ceremony and family gathering will occur July 7 & 8, 2023 at the Martyn Funeral Home in North Bay, Ontario.