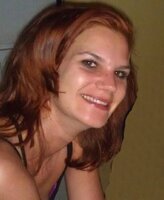 Catherine Winnifred St. John
Our beloved Catherine St. John died suddenly on Monday, October 31, 2022. We are grateful that when she passed, she was safe, lifted in prayer, and together with family.
Cat was born on January 7, 1990, in Sudbury, Ontario, where she spent her young childhood; she also spent time in Sault Ste.Marie, Ontario; in British Columbia; and in North Bay, Ontario where she spent her adult life.
Catherine brought sparkle to every room and had a laugh so contagious that you couldn't help but smile. She loved to walk, hike, spend time in nature and nourish her creativity through a love of art and music.
Catherine struggled with addiction; but it never diminished the beautiful essence of her; she was smart, kind, funny, outgoing, and resilient. She would talk to anyone, and when you were in her company you wanted to stay. She was adored as a daughter, sister, niece, cousin, friend and mother, and being loved by Catherine was a gift.
Catherine loved God, her family and she delighted in the beauty of the world; more than anyone else, she loved her children. She loved to teach them, play with them, snuggle with them, surround them with her love. She believed in the power of positive affirmations and encouraged her children to apply them to everyday life.
Catherine is survived by her children, Isaac, Ivory, Wade, Luna and Josephine; her mother, Theresa Deacon; her siblings Michael (Rachael), Meaghan, Wendy (Dwight), Daniel, Rayanna, Amy and Alaina; her half siblings Anna, Nick, Mary-Lynn and Jamie as well as many beloved aunts, uncles, cousins, nieces and nephews. She is predeceased by her father, James St.John.
We take comfort in knowing that our Cat-a-Dat is surrounded by those who have gone before her, free from her struggles; we wish that she could have experienced that freedom in this lifetime.
Our grief over losing her is infinite; and now so is she.
Please join us for a memorial service honoring Catherine's life on Friday, November 4, at 1 p.m., at the Martyn Funeral Home at 464 Wyld St. in North Bay. A Visitation for Catherine will take place from 11:00am – 1:00pm at Martyn Funeral Home.
Online condolences may be made at www.martynfh.com