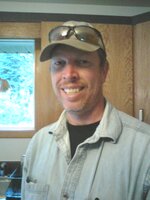 Michael John Andrews
May 22, 1960 - October 17, 2022
Michael passed in his sleep after his battle with cancer. He is survived by his beloved wife Penny (nee Mc Mullin). Dear father of Kelly and Sean. Loving son of James (deceased) and Ottily Andrews. Son in law to the late Robert and Wilma Mc Mullin. Loving big brother to Brenda Davis (James), Linda Hardy, Randy Andrews (Cynthia) and Janice Andrews (Andy). Dear brother in law to Pamela (deceased) Lundrigan (Michael), Pauline Spry, Patricia (Trish) Barber (Travis) and Robert Mc Mullin (Kelly). Uncle to many nieces, nephews and great nieces and nephews.
As a young boy Mike was very active in the outdoors. He loved to hunt, fish, ski, swim, camp and many other similar activities. While attending Iroquois Falls Secondary School, he was part of the senior boys cross country team which competed and came second in the IAGB competition. He graduated from Northern College with honours and won an award. He started his career with Ontario Hydro working as a Power Maintenance Electrician as he worked his way up to management at OPG in Mattawa. During his time at OPG, on December 6th 2012, he contributed significantly in reducing the severity of the Hydro One electrical contact incident that occurred in the Hydro One Switchyard which saved a life.
He was active in the community. He ran the Jackrabbits Cross Country Skiing program. He was a volunteer fire fighter. He like to scuba dive, moose hunt and golf with his father in law. He retired in 2013, so that he could enjoy his hobbies. He was active at the Rockcut Gun Club, helping create new ranges and helping new members. He was always willing to help his neighbours, whether clearing snow, grading the road or moving around dirt. He was always willing to lend a hand. He was one of a kind and will be greatly missed. Viewing will be Saturday October 22, 2022, from 12-3pm at Martyn Funeral Home. Family would appreciate donations being made to the Nipissing Serenity Hospice, Rockcut Gun Club or the charity of your choice.
Special thanks to all who assisted with Michael's Care. Your kindness, compassion and presence helped us through this difficult time.
'Remember me with smiles and laughter,
For that's the way I'll remember you all.
If you can only remember me with tears,
Then don't remember me at all.'"
Laura Ingalls Wilder