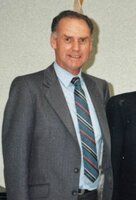 Wayne Dale
Wayne Clifford Dale
Passed away surrounded by family members, September 10, 2022.
Wayne was the beloved husband and widower of Maxine who passed away on December 1, 2010.
Wayne was 83 years old. Loving father of Jeff and partner Tracey of North Bay, Brad
and his wife Janice of Ottawa, Russ and his wife Tina of Calgary.
He will be lovingly remembered by his grandchildren Andrew, Victoria, Liam, Lara, Licia, Carter
and Jalisa. Dearly loved brother of Joyce Godchild of North Bay.
Wayne was born and raised in Northern Ontario where he developed a passion for fishing, hunting,
camping and a love for nature. Wayne and Maxine met in North Bay and married in 1962.
Shortly after they moved to Calgary where they started their family. Wayne was a talented artist transforming experiences in nature into a number of visually pleasing works on canvas using oil paints and pastel. Wayne attended the Southern Alberta Institute of Technology (SAIT) where not only did he expand his artistic talents into the world of graphic arts but where his talents were recognized.
Some of Wayne's pieces were displayed in the SAIT Nicle Gallery. Immediately after finishing at SAIT, Wayne began his career as a graphic artist.
Wayne was credited with stating graphics departments at various printing and oil companies in Calgary.
Early in the 1980s Wayne branched out on his own starting a graphics company, Graphic Impressions. Wayne's work was respected by both his clients and members of the graphic arts profession.
Wayne enjoyed sharing his talents and experiences with his children and with his community, including various community colleges in Calgary and North
Bay.
Wayne was an active member of his community and enjoyed spending time with family and friends.
A Funeral Service will be held in the Martyn Funeral Home Chapel on Saturday September 17th at 2:00PM.