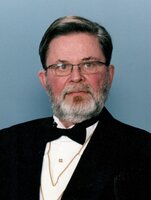 Robert Martin Inglis
Robert Martin "Bob" Inglis
Bob peacefully passed away on Thursday, July 21, 2022 at Easthome in Powassan, Ontario. Just like he dealt with all experiences in life, Bob managed his illness with determination and strength. On his final day, he was surrounded by family, who he adored more than anything else in the world.
Bob chose to live his life to the fullest. He loved challenges and new experiences like scuba diving, flying planes and navigating the Severn Waterways. At 43 he moved his family to Houghton Michigan where he earned his mining engineering degree. He went on to manage many mining projects nationally and internationally.
Bob loved to travel and cherished the friendships he made throughout the many chapters of his life. He was a devoted husband, father and grandfather who taught us many life lessons through his passionate example.
R. W. Bro. Robert Inglis was the DDGM of the Nipissing Muskoka District, Worshipful Master of Nipissing Lodge No. 420 A.F. & A.M, coroneted an Honourary Inspector - General 33 degrees of the Ancient & Accepted Scottish Rite of Freemasonry of Canada in 2008, and proud member of Strong Masonic Lodge #423.
Bob is survived by his wife Beverley Ann (née Shippam) of 52 years, daughter Kimberley Inglis-Clarke (Stephen), son Christopher Inglis (Timmi), sister Jean Hempstock (Bob), grandchildren Abbey, Owen, Cody, Haley (Mack), and Morgan (Christina), and many loving nieces, and nephews.
A special thank you to the staff at Eastholme for their loving care and support during his stay.
Details on visitation and a Masonic Memorial Service will be forthcoming.
Memorial donations can be made to the Brain Tumor Foundation of Canada.