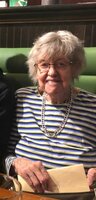 Doreen Patricia Ray
Doreen Ray
(October 28, 1928 - June 19, 2022)
It is with heavy hearts that we announce the passing of Doreen Ray at age 93 at North Bay Regional Hospital. She passed peacefully with her daughters holding her hands. Doreen was a proud and loving mother to Tania Kerr Green (Mark) of Sydney Australia, and Andrea Ray-Robinson (Mark) of North Bay, Ontario. She was a devoted grandmother to Alexandra Green, Micaela Green, Matthew Robinson (Sarah), Jeremy Robinson, Claudia Green, and Andrew Robinson.
Doreen was the middle of five children born to Harold and Hettie 'Dolly' Ray in Birmingham, England. Sad to lose their sister is Cynthia McNorgan (late Ken) from London, Ontario, and Anthony Ray (Carol) of Plymouth, England. She is predeceased by her sisters Beryl Meadows (late Wilfred), Solihull, England, and Eileen Thompson (Ken), Kidderminster, England. Doreen will be missed by her many nieces and nephews throughout the UK and Ontario. She was particularly close to Cynthia's children Karen, Jane, Barb, Paul, and John.
Doreen Ray was a woman before her time in so many ways. She was fiercely independent and proud. She emigrated to Canada alone in 1956, and in 1958, she was the first woman hired in a non-secretarial role at John Labatt Limited in London. She was greatly respected in her 31-year career as a Microbiology Laboratory Technician.
A family celebration of life will be held at later date. Online condolences may be made at Martyn Funeral Home.