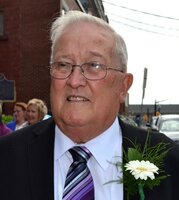 Ian Munroe Butchart
It is with great sadness the family announces the passing of Ian Butchart on May 11th, 2022 at Nipissing Manor in Corbeil. He was in his 90th year.
Ian leaves behind his loving wife of 57 years, Jeanne (Fletcher) and children Beverlee (Jeff), Shawn (Tricia) and Shannon (Matt). He will be dearly missed by his grandchildren Krysten (Chris), Brent (Madison), Breanne, Carson and Dylan, and great grandson Rory.
Ian was a loving, stoic, private man who had a subtle yet witty sense of humour. He always put his family first. Ian will be fondly remembered for his kindness and the gentle manner he displayed. He enjoyed camping, woodworking, cooking, reading and cherishing time with his family.
Ian was born in Lion's Head, Ontario and spent his career with the Royal Bank of Canada until his retirement in 1989 as the Branch Manager in South River. He was an active member of the United Church in South River until he and Jeanne moved to North Bay.
The family wishes to extend their sincere appreciation to Doctors Rebekah King and Kristin Rogers, and everyone who provided care to Ian while he was at Cedar Lodge and Nipissing Manor.
Visitation will be held on Monday, May 16th at 1:00 pm at Martyn Funeral Home in North Bay with a service to follow at 2:00 pm. Out of respect for those in attendance, the family requests that masks be worn. In lieu of a luncheon, a donation will be made to Nipissing Manor's Residents' Council by the family. In lieu of flowers, donations to Trinity United Church or Community Living in North Bay, or the charity of your preference, would be welcomed and appreciated by the family.