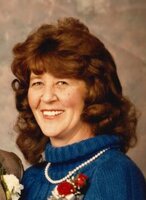 Frances Dianne Turner
TURNER, Frances
With broken hearts we announce the death of our Mom Frances Dianne Tennisco Turner (née Floyd) on April 22 in Mattawa Hospital with her eldest daughter Catherine by her side. Born Feb 1, 1941, Mom was predeceased by two husbands, Edward Tennisco (1972) and Wilson Turner (2018) and three children, Mary Elizabeth Tennisco (1969), Ken Turner (1987) and Christopher Tennisco (2021). Survived by her children Rick Turner (Anita), Catherine Tennisco (John), Deborah Tennisco (Stanley), Michael Tennisco (Gert), Steven Turner, Lori Ann Turner, Clayton Tennisco and Keven Turner (Jessica), 13 Grandchildren and 17 Great Grandchildren. Mom raised or had a hand in raising over a dozen children over the course of her lifetime. There was always room for one more or two or three. Just add a few more potatoes to the pot, throw a sleeping bag down on the floor and everybody was taken care of. Mom had numerous health issues recently leading to a heart attack. She decided enough was enough, told Willy and Eddy to make room in the boat for her because she was ready to join them. Rest easy Mom, you deserve it.
A Celebration of her life will be held on Saturday, June 4, 2022, at the Martyn Funeral Home (464 Wyld St. North Bay) at 11:00am. Frances Celebration of life will be live streamed at the following link: https://event.forgetmenotceremonies.com/ceremony?c=849c569d-2237-4f1c-b1bd-5fcf0d46ca55
Interment to follow at All Saints Mausoleum at a later date.
As per the families wishes, please wear a mask during the service.
In Lieu of flowers, donations may be made in Frances's memory to the North Bay Food Bank.