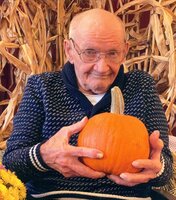 Antti Ilmari (Elmer) "Elmer" Ypya
With heavy hearts, we announce that Elmer passed away peacefully with his daughter Laurie and partner Eevi at his side, on Friday April 26, 2022 at the age of 94.
He will be dearly missed by his beloved partner, Eevi Ylimäki, family and many friends.
Predeceased by his parents Leander and Nanny, brothers, Reino, Unto, and Taisto and sister Hilja. He was the beloved husband of the late Rauni Anna-Liisa (née Ohtamaa).
Elmer was a talented skier, carpenter and always eager for an adventure and new experiences. Elmer will be remembered for his unyielding determination, contagious smile, kind manner, and endless energy.
Family and friends are invited to visit at the Martyn Funeral Home on Saturday, May 14, 2022, between 1:00 pm - 3:00 pm. A private Funeral service to take place at a later date.
In keeping with Elmer's wishes, donations in his name to Eastholme Home for the Aged, and Kid's Sport, will be welcome.