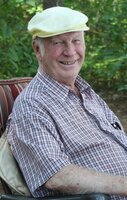 Ted Holman
Edward John Nash Holman "Ted"
February 11, 1925 – February 13, 2022
Ted passed away peacefully on February 13, 2022, with family by his side at the age of 97.
He was predeceased by his parents Tom and Robina, his sister Nancy (Cy) and Freda, his beloved wife for 65 years.
Caring father to Jim (Izabella), Jane (Gary), Patti (Barry), and Sandra (Nigel).
Proud grandfather of Andrew, Sabrina, Jessica, Tracey, Jody, Caron, Kelsan, Stephanie, Gavin and Keegan. Great grandfather of Kaiden, Payton, Caleb, Colton, Kyla, Brayson, Asher, Evans, Myles, Nolan and another arriving in June.
A World War 2 Veteran, Ted served with the RCAF and the Canadian Army. Ted then worked for many years at Inspiration Drilling as a diamond drill mechanic and manager, and ended his career at Northland Glass & Metal.
Ted was a dedicated member of his community and gave freely of his time to various groups. He was a Boy Scout Leader, West Ferris Councillor and a Volunteer Driver for the Canadian Cancer Society. He enjoyed his time with friends at Emmanuel United Church "Sociables" and as a longtime member of NIPMAC.
He had a passion for tinkering with whatever needed fixing, and a keen interest in various hobbies including, woodworking, square dancing, camping, sailing, gardening, painting, building and flying RC airplanes, playing accordion and Volvo cars.
Ted will be remembered for his sense of humour, strong opinions, and inquisitive mind. He remained sharp as a tack until the very end.
Public visitation will be held at the Martyn Funeral Home (464 Wyld St. North Bay) on Sunday, February 20, 2022 from 11:00am – 1:00pm. Due to COVID restrictions, a vaccine passport will be required for entry and capacity for the visitation is limited. Please confirm your attendance by calling Martyn Funeral Home at 705-472-8810 to reserve a spot. Masks are required in the funeral home, and we ask that you please respect social distancing.
Spring interment to follow at Terrace Lawn Cemetery.
A Celebration of Ted's life will be held at a later date.
In lieu of flowers, donations in memory of Ted's late wife Freda may be made to the Alzheimer's Society of Canada or to Friends of Terrace Lawn Cemetery.