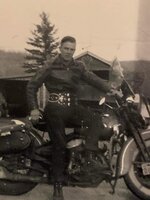 William Edward Sheffield
Edward William Sheffield (William Edward)
April 30th , 1933- January 31st , 2022
Ed Sheffield passed away at the North Bay Regional Health Centre after a lengthy illness, in his 89th year.
He is survived by his wife Karen (nee Armstrong) and his daughters Peggy and Cindy (Pierre), his 2 grandsons David and Curtis and 3 great-grandchildren.
Ed also leaves behind 2 stepchildren, Rob and Jana and his step -grandchildren Robert, Timothy, Caitie, Emily, Lydia and Rosie.
Ed is predeceased by his parents Ernest and Edna (nee Rauche), first wife Sheila (nee Geauvreau), brothers Doug, Mike, Stan and his sister Alice.
Ed is survived by his brothers Norm (Helen), Ron, Joe (Mary Joy) and his sisters Irene, Barb (Bruce) and Gloria and sister-in-law Fran. Ed will be lovingly
remembered by many nieces and nephews.
Ed was a professional painter at CIP, transport driver and a stationary engineer at Tembec. Ed was well known for his humor, love of children and animals. He lived his life in
Redbridge. His spare time was spent as a volunteer grooming the trails for the North Bay Snowmobilers Club. He volunteered for many years and also received
recognition and awards from the club. He also enjoyed ATV-ing, snowmobiling and fishing. He will be remembered for his ability to make, fix or drive anything!
Cremation has taken place and at Ed's request there will be no service. A donation to the charity of your choice would be gratefully acknowledged as expressions of sympathy.