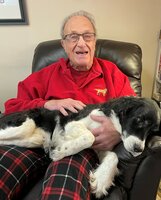 Charles Edmund Olmsted
Charles Edmund Olmsted
Peacefully, in his 94th year, while listening to classical music. Predeceased by his loving wife of 57 years, Joan Sanders Olmsted (19??-2011). The life of Charles was certainly a gold medal performance. A very active member of the North Bay community for decades, Charles' contributions as a volunteer and professional engineer continue to positively impact the lives of many. Born in Niagara Falls on February 9th, 1928, to Reginald Ingersoll and Helen Marguerite Olmsted, and the youngest of three; William Alfred (1920-1987) and Joan Louise (1923-2009), Charles grew up in Hamilton, attended Queen's University and graduated with a degree in civil engineering in 1951.
Charles, who, with his young wife Joan and newborn son Peter, moved to North Bay in 1958 to establish a construction business. He immediately became involved in local charitable organizations. Initially he joined the Rotary Club of North Bay (and remained an active member for over 60 years) and the Board of the YMCA (spearheading the construction of a pool in the 60's, and subsequently chairing the Steering Committee for the therapeutic pool in 2002).
Charles and Joan recognized the important role that community organizations could play in keeping their children active. All four children, in addition to obligatory piano lessons, became active participants in swimming lessons, downhill skiing, and canoeing/kayaking at the fledgling North Bay Canoe Club. Sport became central to family outings. As Barbara and Nancy began to compete internationally in the sport of kayaking, many of Joan and Charlie's holidays focused on following their daughters to such destinations as Los Angeles, CA, and Seoul, South Korea, and they quickly gained a reputation as the loudest, proudest Canadian cheerleaders!
Such travels were preceded by many years of behind-the-scenes efforts to develop facilities and competitive opportunities for young athletes. Charles became involved with the North Bay Canoe Club in 1969, after it became a Canadian Canoe Association affiliated club under the leadership of Terry and Jean Evans, and first Commodore Bob Horne. Olmsted became Commodore the following year, and held that position for seven years. During that time, the club transitioned from the corrugated ice house on Anita Avenue to its present location on Trout Lake. Olmsted and Dick Tafel, local lawyer and dedicated sports builder, combined their talents and contacts with the Rotary Club and community to procure a pair of portable classrooms and leased City land. "Those portable classrooms served as the club's boat storage facility for more than a decade. Olmsted and a crew of volunteers constructed ramps and shelving in order to make the portables suitable for various sizes of craft. Fundraising started in 1984 for the present clubhouse and storage facility which was built to Olmsted's design at a cost of $190,000. It was officially opened in May 1986." (Handley, P. Flashbacks, They Were our Heroes, Volume II, 2017).
As the Olmsted children rose through the canoeing ranks to provincial and national levels, Charlie became involved with the Ontario Canoe Sprint Racing Affiliation, serving as Chair for five years (1978-82). The North Bay Canoe Club grew to national prominence during those years, and quite remarkably for a relatively small community, it continues to produce National and Olympic level athletes.
Acknowledging that cross country skiing was an excellent cross-training activity for canoeing, Charlie served as executive member of the North Bay Nordic Ski Club for 10 years, three as President from 1979-1982. During those early years, the club was looking for a home, and subsequently purchased a piece of land on North Shore Road, current home of the club, as well as the rights to use the adjacent crown land. Trails were developed as a result of hundreds of volunteer hours of tough labour in thick bush. With Charlie's leadership and expertise in the construction business, the club purchased a portable classroom in 1978, and had it installed and renovated for use as a clubhouse. Charlie was a key organizer for many club races, also acting as Chief of Race, Chief Starter and as the Club's representative to the Northern Ontario Ski Division. The club has fully justified the vision of so many years ago, now enjoying tremendous growth in membership, trail network, and reputation as one of the province's premiere locations for provincial and national competitions. It is no wonder that Charles' family affectionately referred to him as the "King of Clubs"!
Charles was honoured by the North Bay Sports Hall of Fame in 2018, presenting him with the Peter Handley Friend of Sport Award. The award is given to an individual who contributes tirelessly behind the scenes without the desire for recognition; one who supports, organizes, and builds sport for the benefit of others. This was a fitting tribute to the type of man he was.
It is worth noting that in addition to his efforts to develop local sports clubs, Charlie has been an active leader in the North Bay community in other ways. He was Chair of the North Bay General Hospital during the challenging and successful amalgamation process, and served on the Board of Governors of the newly-chartered Nipissing University. Recipient of the prestigious Professional Engineers of Ontario Citizenship Award in 2003, Charlie has used his professional skills and expertise as an engineer to directly benefit the quality of life in the North Bay community.
Charles was also an avid supporter of the North Bay Symphony Orchestra, and he spent many hours in recent years relaxing at home with his pal Panda listening to classical music performed by world renowned artists on YouTube. In his earlier years, Charles enjoyed downhill skiing, cross country skiing, and sailing on Lake Nipissing.
Charles is survived by his children, Peter (Laurra), Barbara (Heather Windrem), Paul (Sandra), and Nancy; grandchildren Tracey LeGrand (Dave); James, Charles, Adam, and William Olmsted; nephew Relf (Susan Procter) Devaney, niece Jill (Richard) Weston, great-nephew Eric Weston and many furry friends (Panda, Bentley, Karma, Gem, Hershey, and Cooper). In addition to his wife Joan, parents and siblings, Charles was predeceased by his nephews Ric Olmsted (2001) (Anna) and Lyndon Devaney (2019) (Gale Willgoss), and great-nephew Scott Weston (2020).
The family would like to express their sincerest thanks to all of the wonderful caregivers both at home and at the North Bay Regional Health Centre.
Visitation by appointment only through Martyn Funeral Home at (705-472-8810), Monday, December 27th, 10:00-12:00 and 1:30-3:30. Service to follow at 3:30.
If desired, donations to the North Bay Regional Health Centre Foundation as expressions of sympathy would be sincerely appreciated.
Masks are required in the Funeral Home and please respect Social Distancing. The Memorial Service will be lived streamed through the Funeral Home's Facebook page at https://www.facebook.com/MartynFuneralHome. If you do not have a Facebook account, you can still watch - scroll down to the bottom of the page, and then click "Not now" when asked to create an account.
If desired, donations to the North Bay Regional Health Centre Foundation as expressions of sympathy would be sincerely appreciated.