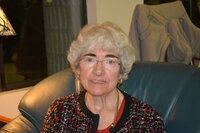 Irene Rosetta Honeyborne
Irene Rosetta Honeyborne (nee Black)
Dec 31, 1933 – November 19, 2021
It is with sadness that we announce the passing of Irene Rosetta Honeyborne in her 87th year.
Predeceased by her husband Don and her brother Tom she is survived by her four children: Peter (Jo-Anne), Sheila (Rene), Heather (John), Brian (Cindy); her Grandchildren: Patrick (Becca), Geoffrey, Jessica, Michael (Skye), Megan, Cameron (Kate), Jennifer, Eric, Lianne, Katie (Jordan), Jonathan, Abigail, Isabella, Benjamin; and her Great Grandchildren: Lillian, Emily, Oliver, and Hazel.
Irene was born in Dundee Scotland and emigrated to Toronto, (Canada) with her Mother and younger brother in May 1953. There while attending Glenmount United Church, she met the love of her life, Don. They were married Dec 3, 1955.
Irene was involved in her children's various sports and activities throughout their youth, she strongly believed that her family should learn to swim, that they remain active and pursue their educational goals. Irene returned to school herself starting with Grade 13 at Chippewa High School where she attended with her two oldest children, then on to Canadore College for her RN Diploma and finally to Laurentian University where she graduated with a BA in Social Work. Irene worked as a Registered Nurse before retiring.
Though she had lived in Canada from the age of 19 a part of her always belonged to Scotland. She loved music, especially Scottish Pipe music and made several return visits to her homeland.
Irene was an active member of Trinity United Church, she volunteered on many occasions whether it was social events, fundraising, outreach or being a part of the UCW activities. She enjoyed lending a helping hand when she could and developed many strong friendships throughout the years.
The family would like to express their gratitude to the staff of Cassellholme for their excellent care and compassion as Mom battled Alzheimer's disease.
A Memorial Service will be held on Saturday, May 28th, 2022 in North Bay.
In lieu of flowers the family would appreciate donations in Irene's memory to Trinity United Church or the Cancer Society.
If you would like to be notified of the location and time of the Memorial Service please send an email to: irenehoneybornememorial@gmail.com