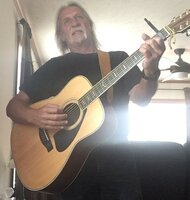 Frank Brian Hughson
Hughson, Brian Frank
Passed away suddenly in his home on Friday November 12, 2021. Pre-deceased by his beloved wife Sigrun Hughson, and parents Frank and Janet Hughson.
Cherished father of Kaelen Hughson (Lise), Roberta Hughson (Jesiah). Proud grandfather of Jeffrey, Megan, Marc, Damean, Ethan, Marissa, Emma, and proud great-grandfather to Teddy.
Sadly, missed by his brother, Bill Hughson (Carole).
Cherished and missed by his partner Nancy Vandusen.
Brian had a larger-than-life personality, always joking around and enjoying adventures with his family. He had great joy and love for music and sharing that with his family and friends.
His presence will be greatly missed by many.
A celebration of life will be announced by the family.
If desired a donation can be made to the North Bay School of Music for their Music Matters program. This donation can be made by cheque made out to North Bay School of Music or e-transfer to info@northbayschoolofmusic.com