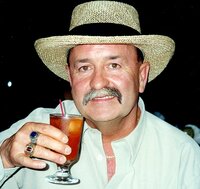 Raymond Ouellette
Ouellette, Raymond (Houleo)
After a courageous battle with cancer, Ray passed away peacefully, surrounded by loving family at NBRHC, on November 9, 2021, at the age of 71 . He will be lovingly remembered by his wife Debbie Ouellette (nee Robillard) and survived by Vivianne Ouellette (nee Gauthier). He was a loving father to Derek, Tammy Allan (Jason), and Raymond Jr. (Carla). Ray will be sorely missed by his mother, Edna Ouellette (late Albert). He was a dear step-father to Jamie and Julie Robillard, and loving grandpa to Alex (Mya), Isaiah (Mercedes), Gabrielle, Katherine, Tyson, Reis, Kennedy and Brayden, and great grandpa to Myllz and Zane.
Dear brother of Jean (Garry Dudgeon), Paul Ouellette (Kim) and John Ouellette. Survived by his sister and brother-in-laws, Barb and George Steele, Bud and Bette Alcorn (both predeceased), Karen and Walter Kaniecki (both predeceased). Ray was loved by many nieces and nephews.
Born and raised in Chisholm Township, Ray worked with his father at Ouellette Construction Company in logging and road maintenance. He also worked for Chisholm Township and volunteered as a firefighter. Ray was also briefly employed in dam and water control, however his career was cut short following a blasting incident by which he dropped the depth of Wasi Lake by 2ft. He was proud of being the Chairman of the Phelps Local Roads Board. Ray worked for the Ministry of Transportation in vegetation control and the summer and winter maintenance departments. In his later years, he worked for the City of North Bay as an equipment operator. His most recent position was as a Chargehand in the roads department, which he retired from in 2018.
Ray enjoyed playing hockey with the Ouellette Chisholm Lumber Kings, baseball (Northern Honda All-Ontario Champions in 1992), snowmobiling, and was an avid fisherman, hunter and curler (at the North Bay Granite Club). He was a die-hard Toronto Maple Leafs and Blue Jays fan.
Ray was dubbed "Houleo" following a perm-gone-wrong in the 80s. The name followed him forever, but sadly, the luscious locks did not. Ray was a dedicated and loving family man who lived life to its fullest and laughed with ease. Ray was fulfilled by his ever-loyal retrievers, Bailey, Amber, Dakota, Desta & Dylan, who will sorely miss accompanying their dad on daily truck rides and working around the yard.
Special thanks to Dr.Locke and Lana, as well as CCU staff, including Ashley, Janet, Brittany, Nancy and Serena for their loving care provided over the last few days. Cremation has taken place and the interment of cremated remains at Forest Lawn Cemetery will occur at a later date.
Per Ray's wishes, a celebration of life will be held at the North Bay Elk's Club, 325 Elk's Lane, off of Trout Lake Road, on Saturday November 20th from 1-5 p.m. COVID-19 protocols for large gatherings will be in place and proof of vaccine upon entry will be requested. Expressions of sympathy, in the form of donations to the North Bay Humane Society or Nipissing Serenity Hospice would be gratefully acknowledged by the family.
Please share any cherished moments, funny stories or anecdotes in advance of the Celebration of Life at the link below: https://forms.gle/fBJER41kbGfFdGb66