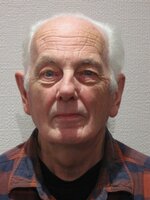 Allan Jones
Jones, Allan
It is with great sadness that the Jones family announces the passing of Allan on November 5, 2021. He passed peacefully at the North Bay Regional Health Center with his wife and family by his side. Allan, in his 81st year is predeceased by his parents Robert and Anne, siblings Donald (Claire) and Bernice. He will be lovingly remembered by his wife June, Son Brian (Lindsey), grandchildren Madison and Hannah, Brother Ken (Jean) and Nephew, Ken and nieces, Katie and Nancy.
Allan, June's dearly beloved, enjoyed the simple pleasures of life. Summers were spent at the cottage, where many walks taken amidst the tranquil beauty of the forest yielded interesting wildlife which could be seen and heard up close. Allan loved the cottage where he spent time working on little projects in the garage, helping the other cottagers and making wine with his neighbor and longtime friend, Fred Steward. He enjoyed mechanical work and could often be found working on one of his many vehicles or fixing a neighbor's chainsaw or snowblower; Allan never shied away from fixing something broken. In his younger years, he was always seeking to learn new skills, whether he was reading a new woodworking book, studying a Haynes automotive repair manual, or taking night classes. It was during an automotive body work night class that Allan crafted a small car from sheet metal and painted it for his final project. Allan was loyal, not just to the people that knew him well; he personified the word. If Allan gave you his word, you could count on it. He was a dedicated and valued employee of the ONR for 34 years where he worked as a carman before retiring in 1994 at age 54 and enjoyed many years of well-deserved retirement.
He could easily be remembered by his soft-spoken demeanor and endless kindness; especially when it came to the many dogs he gave a safe haven to. He was a man of few words but when he did choose to speak, it was intentional, witty, tongue in cheek, or matter of fact. His legacy will live on through the virtues he bestowed upon his only son, Brian: live life appreciating the little things, lead with kindness, be loyal and true.
Visitations will be held at Martyn Funeral Home on Thursday November 11, 2021, between 2:00-4:00pm and 7:00-9:00pm. A memorial service will be held at the Martyn Funeral Home Chapel on November 12, 2021, at 11:00am. We ask that you RSVP your attendance (705-472-8810) so we may respect the 50-person limit. Following the memorial service all are welcome to attend the burial ceremony at Forest Lawn Cemetery.
In lieu of flowers, donations in memory of Allan to All Heart Pet Rescue would be gratefully accepted as expressions of sympathy.