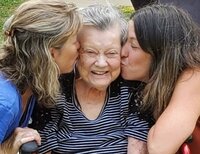 Emma Luella "Louella" Cross
Cross, Louella
It is with broken hearts that the family of Louella Emma Cross announce her passing on September 21, 2021 at the North Bay Regional Health Center. Lou was in her 88th year.
Our Mother's endless love and friendship will be deeply missed by her two daughters; Cindy Ouellette and Laurie Rioux. We were the three musketeers. Mom never made an important decision without first checking with her daughters. The strongest link to our family chain is gone and our hearts broke when we had to say good-bye. Mom was also loved very much by her two son in-laws Marc Ouellette and Denis Rioux. Just a few days ago, Mom had said that she couldn't have handpicked two better son in-laws.
Mom always loved to have visits with her grandchildren and to hear about their lives and their latest adventures. Her grandchildren; Kassandra Girard, Brandon Ouellette, Amber Rioux, Brodie Rioux, Nadine Ouellette, Shane Girard and Seth Danis will forever carry their treasured memories and her unconditional love in their hearts.
Sweet Wee Ryan always put a smile on Great Gramma's face when she visited. They loved to share pizza, bear paws and ice cream and of course an endless supply of hugs and kisses.
Friendship meant the world to Mom and she was truly blessed the day that she met Sue Warner. Sue quickly became a Dear Friend and a member of the family. She will always treasure her memories of their time spent together talking and sharing coffee and apple fritters.
Mom will be missed by her loving siblings, Christina Parkinson and Neil Scobie. They both have so many treasured memories of their childhood growing up in Rutherglen and special times spent together in their later years. She is also loved and will be missed by her many nieces and nephews who all had a very special place in her heart.
Mom is predeceased by her husband Peter Cross and her parents Irven Scobie and Alma Chenier. Also, by her siblings; Gloria Brown, Leonard Scobie, Lola Cross and Lynda Dinardo. As well as by Bandit, her snuggle buddy fur baby.
A heart felt thank you to the wonderful team at Cassellholme Community Support. Your loving and dedicated care allowed Mom to stay in her own home which was exactly where she wanted to be. You treated her with love and respect every day. Mom developed a special bond with all of you.
Thank you to Dr. Jinnah who always truly listened. Mom's face lit up every time you walked into her room. Also, thank you to the wonderful caring nursing staff of C-1. Your care and compassion for Mom meant the world to Mom and to us. She told us daily that all of you treated her so nicely.
Mom was an animal lover, especially cats. If desired a donation to your favorite animal rescue would be appreciated.
The common sentiment amongst the condolences that we have received has been, "Louella was always so sweet and she treated me so kindly." That was our Mother's gift to all of us. Her kindness and generosity, her gentleness and love will be missed by everyone who was fortunate enough to have known her.
"There are some who bring a light so great to the world, that even after they have gone, their light remains."
We leave you with Mom's final words, "Good night, Dear. Love You all."