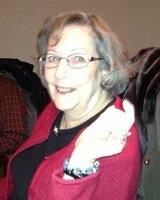 June Catherine Pennie
Pennie, June Catherine (nee Wheeler)
June 23, 1931 - September 20, 2021
After a long and wonderful life, June passed away peacefully on September 20, 2021 at the Nipissing Serenity Hospice in North Bay, Ontario. June was born June 23, 1931 in Toronto, Ontario to Henry and Edna Wheeler (predeceased). Predeceased by her former spouse, Ian Pennie. Predeceased by longtime partner Cecil (Ken) Richardson. Beloved mother of Susan Hutton (Don), Sally Rogers (Tim), Mary Jean Udeschini (Marc) and Dianne Pennie. Loving sister of Don and Shirley Wheeler. Treasured grandmother (Nana) of Mark (Christine and great granddaughter, Adalyn), Jamie, Luke, Lauren, Johnathan and Jillian. Devoted Aunt of Debbie, Pennie, Ian and Carol. Loving sister-in-law of Joan Best (predeceased).
After moving with her family to North Bay in 1970, she began her successful career in real estate which lasted over two decades. At that time, June also sat on the YMCA committee for a couple years and was a great supporter of many charities. In her retirement years, June and Ken spent their years living in Florida as true 'snowbirds' do. June's number one joy was spending time with her family, a love and devotion beyond words. Her family and friends loved her caring nature and natural sense of humour.
A special thank you to the staff at the Nipissing Serenity Hospice for their warmth and care. A thank you to the staff on 3B of the North Bay Regional Health Centre for their dedication. As well, a heartfelt thank you to the doctors who have cared for June throughout the years.
At June's request a private family celebration of life will take place at a later date.
If you wish to make a donation in memory of June, her wishes were for the Nipissing Serenity Hospice, the North Bay Regional Health Centre, or a charity of your choice.
Words June lived by…
"I've learned that people
will forget what you said,
people will forget what you did,
but people will never forget
how you made them feel."
(Maya Angelou)