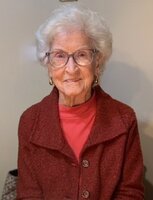 Edna Witzke
Edna Witzke
January 5 ,1925 – September 4, 2021
It is with great sorrow that the Culhane family announces the passing of their beloved mother Edna Witzke (nee Milroy) on September 4, 2021 at the age of 96 years. Edna was the proud mother of four boys, George Culhane deceased (Jeannine – deceased, Sue), Patrick Culhane (Patricia), Ted Culhane (Vivianne) and Bill (Sharon) Culhane. Edna was predeceased by her husband of many years, Rudy Witzke, her grandson Danny Culhane, and her great grandsons Derek Dickinson and Greyson Zubick. Edna was the last living survivor of her generation and is now reunited with all of the other close family members who have predeceased her. She was a cherished grandmother, great- grandmother and great- great grandmother.
Edna was a kind, gentle, beautiful and elegant lady who will always be remembered for her goodness and grace. She was admired for her strength, independence and wisdom and inspired many with her creative talents. She had a great sense of humour and enjoyed sharing stories and laughs with family and friends. Her family was her greatest joy in life and her legacy of love. She will be sadly missed by all who knew and loved her.
Cremation has taken place at the Martyn Funeral Home. A celebration of her life will take place at the Buffam Leveille Funeral Home on Wednesday, October 13, 2021 in Haileybury and internment will follow at the Mount Pleasant Cemetery.