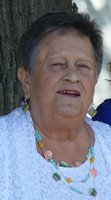 Marlene Phyllis Parcher
Marlene Phyllis Parcher (Oehring)
Jan. 9, 1939 – April 3, 2021
It is with deep and extreme sadness that we announce the peaceful passing of our beloved and cherished Marlene "Pooch" Parcher at the North Bay Regional Health Centre, with her daughters by her side on
Saturday, April 3rd.
Born to George and Antoinette Oehring and raised in Virginiatown, Ontario, Marlene was also a long time resident of Larder Lake, Ontario where she raised her family and established many life long friendships over the years. She eventually moved to North Bay, Ontario, enjoying the last 20 years close to her daughters.
Marlene was a beautiful and wonderful person, caring mother, grandmother and great grandmother.
Marlene had the ability to make everyone feel special, to make people laugh, and knew just how to make everything "tickety boo" as she would say, with her strong willed, yet compassionate and magnetic personality.
Marlene was someone that you would want as a friend the moment that you met her.
Her wonderful sense of humour was second to none and her laughter and smile would light up any room that she entered or conversation that she was a part of.
Marlene was a passionate sports fan and her love of Curling and Hockey were up there at the top of her list, but it was her love of the the Toronto Blue Jays that never waned. Her first trip to a live Blue Jay's
game most likely cemented her intense dedication and love for the team. She loved an enjoyable outing with her family, whether it was a casual trip to Sturgeon Falls for a loaf of bread and a stop at the local chip truck for some french fries, or a trip to take in "The Phantom", via a limousine, only to say, "once more around the block".
Marlene loved to cook, especially for family gatherings. Sunday dinners at her home was a treat
that everyone looked forward to, and if you were lucky to attend one, you were in for a treat.
Her natural talent for making preserves also came through with every jar of pickles that she made for her family to enjoy. Her desire and determination carried through as she took pride in compiling many of her original recipes into a binder for her family to enjoy for generations.
Marlene was predeceased by her parents George and Antoinette Oehring, her brother Philip (Marie)
and her sister Anne Masching (late John).
Marlene will forever be sadly and deeply missed by her daughters Valerie Parcher (Kim), Donna (David) Frampton, and Cathy (Richard) Laframboise as well as her grandchildren,
Donald, Christopher, Justin, April, Heather and Craig along with her great grandchildren, Xander and Maddy.
Marlene will also be sadly missed, and fondly remembered by her sisters Joan McDonald (late Ray),
Barb Vincent (late Aurele), Christine de Schneider (Brad), Susie Ackerman (Steve), and by her brothers
George (Claudette), Dave (Betty), Peter, and Mark (Elaine), along with many nieces and nephews.
We love you Marlene and our lives will not be the same without you.
You will remain in our hearts, and in our memories forever not only by your family, but by the many friends
and acquaintances alike whose lives that you have touched in so many beautiful ways throughout your many wonderful years with us.
As Marlene would always say, "See you when I see you".