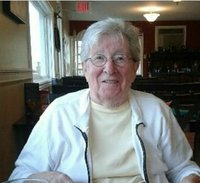 Thelma Margaret Croskery
It is with true sadness that we announce the passing of Thelma Croskery (nee Ross) on March 29th, peacefully at her home, surrounded by the love of family, and leaving with a sense of peace, knowing that her 95 year life was one well lived.
Thelma, or Mom, Grandma, Great-grandma or GG to her large and devoted family, had a maritime spirit through and through. Born on July 11th, 1925 in St. John, New Brunswick, she never tired of a fine seafood dinner (sometimes replaced with pickerel), and she had an almost spiritual connection to the crashing surf and salt-water breeze of the Atlantic Ocean.
Her childhood years were happy and filled with many simple pleasures such a bike rides with friends, gatherings at the beach and eventually her graduation from school and first job working for the local telephone company, where she quickly took on a supervisory role.
Her life journey would take its biggest turn one fateful night when she would meet a certain strapping young infantryman at a dance organized for servicemen in training during World War II. A romance quickly blossomed, and within months of that first encounter, she married Bill Croskery, the love of her life.
Following Bill's return from combat in Europe, the two chose to move back to his home in Ontario, eventually settling to a 100 acre homestead in Bonfield that she affectionately called "the old farm" and later moving to "the house on the highway" where she proudly raised a family of nine. While such a large family was a test to anyone's culinary skills, she drew rave reviews for many of her resourceful creations including her wonderful dumplings and her potato cakes browned to perfection. She always enjoyed the family holiday gatherings in the country the most, especially when it included a rousing card and board games.
Thelma was an avid reader, particularly murder mysteries, and her desk drawer would always be filled with bookstore gift cards that the family delighted in giving her to help keep this passion alive and well. She could also be called a curling "superfan" and spoke so fondly about being able to attend the World Women's Curling Championship in North Bay at the age of 92. Music was also something she enjoyed immensely, and her tastes covered many styles from a soothing Michael Buble ballad to a rousing symphony.
We were all grateful that she would be able to fulfill a passion for travel in her later years, as she often spoke about her many adventures that included being able to see a live NHL hockey where Wayne Gretzky played and being able to attend a magical live performance of Pavarotti during a trip to the United Kingdom.
While she relished the many great chapters of her life, she always considered her family as her greatest legacy. She drew her greatest sense of peace and satisfaction in knowing that the qualities she held so dear such as love, strength and decency were being passed along from her to so many.
Thelma was predeceased by her cherished husband Bill in 1992, and by her brothers Percy and Robert, and sister Mona.
She will be dearly missed by a great many loving family members including her children, Janet (Doug), Ben (Pauline), Jim (Andree), Susan (Andre), Rob (Cindy), Bill (Debbie), Doug (Kathy), Russ (Cathy) and Alicia (John). Also left to mourn her loss are 24 grandchildren, and 21 great grandchildren, all of whom held a special place in her heart.
The family extends a heartfelt thanks to Dr. O'Grady and Dr. Leckie for their compassionate care, caregivers from ParaMed and the ladies from PHARA who warmly tended to her in recent years.
Due to COVID 19 protocols, only a private family service and viewing is planned and will be held at on Wednesday, March 31st at the Martyn Funeral Home Chapel.
In lieu of flowers, a donation to the North Bay Choral Society (https://www.canadahelps.org/en/charities/north-bay-choral-society/) or a charity of choice would be greatly appreciated.