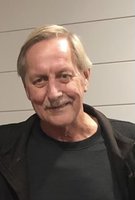 Joe "Joe" Sayer
It is with heavy hearts that the family announces the passing of Joe (Baby Joe) Sayer at home
after a short but courageous battle with cancer, on March 12, 2021 in his 64th year.
Born in North Bay, March 22, 1957; Pre - Deceased by his parents Wilfred and Jean (Dube) Sayer. Joe is survived by Lori (Poeta) and their cherished daughters Chelsea - " Chelster" ( Aaron Storey) and Lindsay- "Magoo" ( Jeff MacGibbon). Dearest Grandpa to Parker, Anthony, Charlotte, Austin, Chase, Sawyer, Nathan, Addilynn. The youngest of 8 Children, Joe is also survived by siblings Nancy (Don-d.), Tom (Pat-d.), Candy (Ken-d.), Greg (Val), Merry (Butch-d.), Barb, Patrick (Cathie) and his many nieces and nephews who he dearly loved.
" Heres a Buck, Who's your favourite uncle?!" Family meant everything to Joe, which had been inspired by Wilf & Jean's big family gatherings, especially at the family cottage on Lake Nosbonsing. As Joe and Lori's family grew, their boating days were his special times, then later, Sunday family dinners with the girls and their growing families.
In recent years, Joe's loyalest companions were his Golfing buddies and the fellows in " Ol Farts Club". He will be greatly missed by its' members. "Cheers Joe!" Following family footsteps, Joe had a 38 year career with CP Rail, retiring in 2012. Just like his father and brother Greg, he always wanted to drive the engine. He had been an excellent instructor and mentor to many who had followed behind him. Special thanks to greatest family support Tom Laughlin.
Lori, Chelsea and Lindsay could not have gotten through the most recent times without your love and guidance, which Joe was extremely thankful for. Joe's family will receive friends at the Martyn Funeral Home on Friday afternoon and evening, 2 – 4 & 7 – 9 pm. Due to the current pandemic attendance at the visitation will be by appointment only. Please call the funeral home at 705-472-8810 to schedule a time. The immediate family will hold a private service, with a Celebration of Life to follow at a later date, once conditions allow for larger gatherings. Arrangements entrusted to Martyn Funeral Home North Bay. In Lieu of flowers, Donations to Hospice Simcoe would be greatly appreciated. Online condolences at www.martynfh.com