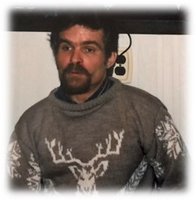 Ronald Olmstead
Ronald "Ron" OLMSTEAD
Died on February 28, 2021 at the age of 70 at his home in North Bay, Ontario.
Ron is survived by his sister Wendy Olmstead (Leslie Griffin), his nieces Michelle Beatty (James Peters), Kathryn Beatty (Maurice Hyde), Tammy Beatty (Darryl McGlynn), Kelsey Betts (Kya Betts) and nephew Kyle Miller along with great-nieces Justice Beatty (Robert Last), Isobella Beatty-Peters, Camryn Hyde and great-nephews Kaelan Hyde, Damon McGlynn, Robert Peters, Connor Miller and Haydyn Betts. He is predeceased by his mother, Colleen Olmstead (Bush), father, Melville (Mel) Olmstead, sister, Theresa (Terry) Beatty and brother-in-law James Beatty.
Ron started his life with the love and support of his family. At 16, he joined the Navy with the goal of starting a productive and fulfilling life. After a short service he was honorably discharged. For years, Ron struggled with unforgiving and relentless mental illness which led to addiction. Despite his many hurdles, he loved to write poetry and help others with similar illnesses. While he would visit friends and family over the years, he was a man who followed his own path. His imagination and creativity will be missed.
The family wishes to thank the devoted staff from the Assertive Community Treatment (ACT) team in North Bay for their support of Ron throughout the years along with the individuals who did all they could to support, encourage and love Ron through the good times and the challenges.
Funeral arrangements have been entrusted to Martyn Funeral home in North Bay. Due to covid restrictions, no service will take place. A memorial will be held at the Kirkland Lake Cemetery in the community of Swastika where Ron will be laid to rest with his parents once covid restrictions permit.