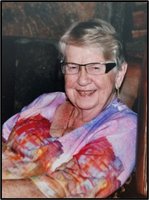 Angela Theresa Pace
Angela Theresa Pace, wrapped in the loving embrace of her family, passed from this life to meet her true love Murray on February 19, 2021.
Angela and Murray were proud parents to Albert (Kristin), John (Lyn), Barbara (Richard), Joanna (Joe), Mary (Ron), Len (Frances), Matthew (Anna), Kate (Mark), Judy (John), and Patrick (Lori), grandparents to thirty-three, and great grandparents to seven. They took great joy in their special relationship with Mary Rose (Enzo) and Chris (Margaret). Angela is survived by her sister Ina Keogh.
Angela grew up in Toronto, one of eleven children of Tobias and Eva (nee McKendrick) Kelly. She spent her summers barefoot at Hydro Glen on the Severn River. She trained and worked as a nurse at St. Michael's Hospital in Toronto, where she fell in love with Murray. As a nurse, as a mother, and later as Murray navigated the effects of Parkinson's, she found her calling as a caregiver.
Mom was an equal and formidable partner of Dad in building their family. Both had vocations dedicated to mothers, children and families; while Dad practiced at the hospital, Mom exercised her vocation at home.
Mom would pack all the kids into the car to spend the summer, barefoot again, on Brills Island on Lake Nipissing, returning to North Bay at the last possible moment before school started in September. She fostered the building of memories: lunches on the beach, blueberry picking, building forts and fires, spotting stars, then sleeping under them. On winter weekends, the gang was shuffled to the ski hill, each of us to spend time with our nearest siblings and friends. Mom gave us the gifts of independence, adventure, love for the outdoors and the treasures of friendships.
Mom always found time to attend parent-teacher nights, football, basketball and volleyball games, school concerts and plays, ski racing competitions, and science fairs for all us kids.
Later in life, now as Grandma, Angela delighted in her grandchildren and great-grandchildren. She loved the give and take and sass of her older grandkids, which she would return in kind. And she reveled in the sweetness of the younger ones. She could more than hold her own with this younger generation.
Mom's devotion to her Catholic faith was profound. The notion of collective, community faith worn proudly was a vital part of her belief, and the circle of friends within the Pro-Cathedral was a through line. This group celebrated their faith together, their kids went to school together, they spent leisure time together. Not least, they enjoyed the regular fantastic bashes Ange and Murray hosted at Christmas and at the Island.
Mom carved out her own space amidst the chaos of the family. She was an accomplished painter, read voraciously, was a gourmet cook, and loved to travel and ski. She was a political junkie and strong Liberal supporter. She was worldly, highly intelligent, and always prepared to defend her opinions, which were always held strongly. She was both a traditionalist in her view of family roles and an independent woman before her time.
Angela was one of a kind and we will miss her deeply.
Thank you to the many doctors, nurses and other caregivers of the North Bay Regional Health Centre and surrounding services who cared so well for Angela in her later years. Thanks especially to Dr. Laura Kistemaker for her kind care, and to the professionals of the NBRHC Ambulance Service for their dedication.
Due to Covid-19 restrictions, there will be no public visitation. A celebration of Angela's life will be held at a later date. In lieu of flowers, donations to the North Bay Regional Health Centre Foundation (https://www.nbrhcfoundation.ca/make-a-donation) would be appreciated.