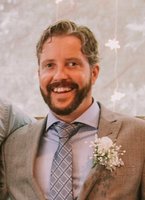 Stanley Aaron Christopher Herbert
Stanley Aaron Christopher Herbert
In loving memory of Stanley Aaron Christopher Herbert (at the age of 37) who passed away unexpectedly in North Bay ON, on December 5, 2020 born August 6, 1983 in Sudbury ON. Stanley will be remembered for his loving heart, kind soul, and a big smile that would light up a room. He was a friend and companion to many and was always there to cheer you up. Beloved son of Zona Dallard (John) and Stanley Herbert Sr., (predeceased 1983) and stepson of Marcel Belcourt. Grandson of the late John and Myrtle Zuefle and Robert and Pearl Herbert. Step grandson of Phil and (Viola predeceased) Belcourt. Stepbrother of Jessica Lawrence, Rachel and Alicia Dallard. A special uncle to Chelsey and Carter Pitfield who was like a big brother. He will be sadly missed by many uncles, aunts, cousins and special friends. Stanley loved his family more than anything. He loved life and lived it fully. Stanley was a skilled residential and commercial electrician and tradesman working in Alberta and Ontario. Even though he travelled often, he would always return to his roots in Killarney ON. Stanley always loved an adventure. The outdoors, boating and camping on Georgian Bay was his happy place.
Jesus has called him home. Until we meet again Stanley.
A celebration of life was held on December 18, 2020 at the Killarney Mountain Lodge. An interment will be scheduled August 6, 2021 in Killarney, ON with a fish fry to follow subject to covid19 health guidelines.