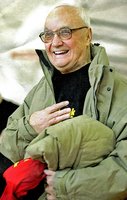 Arthur John Gabor
Arthur John Gabor:
It is with heavy hearts and sadness that we announce the peaceful passing of Arthur John Gabor on Wednesday Nov 18, 2020 at the age of 92. He will be sadly missed by his loving wife Doris Crawford, Children; Arthur Jr, Step Children; Kelly Brown, Kevin, Catherine, Barclay and Morgan Cornell, nieces; Mira May, Lisa Lee Medveduke and numerous grandchildren.
The world has lost a kind and gentle soul but he has left a footprint that will be difficult to erase. Art always expressed that he wanted to make a difference and contribute in a way that made the world a better place and he did just that.
Art was an outstanding athlete in his own rite, a dedicated coach and a contributor at every level of sport. As a teacher, he spent most of his career at Chippewa Secondary School and he was proud of his school family. There was often a vigorous debate at the dinner table with his sons, who attended other secondary schools in North Bay, as to which school was the best. He always won these arguments as he indicated to them he coached and taught most of the teachers that were coaching or teaching them at that time.
Art spent countless hours organizing tournaments, coaching kids, mentoring coaches, officiating basketball and supporting the North Bay Legion Track Club. The Chippewa boys basketball tournament, aptly named the Art Gabor Classic Basketball Tournament, one of the largest in Ontario, was one of his sources of pride and he stayed involved until his failing health did not allow him to do so.
Art's contribution to sport was recognized by the North Bay Sports Hall of Fame and he was very excited to receive this honour because as he indicated, it was recognition from his peers, which was very important to him.
He loved music, playing his guitar and drums and "jamming" with friends whenever he got the chance.
Art's life was well lived and he was well loved - we have lost a generous and compassionate man but he has left us with abundant memories and set an admirable example for all of us to always be kind to each other and smile, even in the most difficult and challenging times.
In lieu of flowers please feel free to donate to the Arthur J Gabor Raider Athletic bursary fund. The Raider's Athletic Department will use the funds to assist athletes on an annual basis who are in need of financial support to cover costs associated with participation in any school sport.
In keeping with the requirements under COVID there will be a service for family Friday November 27. A celebration of life will be held at an appropriate time when an attendance of all of those wanting celebrate the life and times of Arthur John Gabor can attend.
Donations should be directed to the Near North District School Board
Attn: Paul Manning
PO Box 3110
North Bay ON P1B 8H1
Cheques made payable to the Near North District School Board.