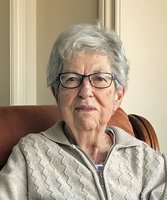 Betty Moseley-Williams
Moseley-Williams: Betty
September 10, 1933 – October 18, 2020
Betty Moseley-Williams (nee, Elizabeth Anne O'Rourke) died peacefully at home aged 87, surrounded by her five sons. She was born in Saskatoon and, following the early death of her mother, was raised alongside her siblings by the Sisters of St. Joseph in Wainwright, AB. She graduated high school after skipping two grades and attended business college in Winnipeg. She decided to pursue a nursing career and graduated from St. Joseph's Hospital Nursing College in 1954 and North Bay became her home for life. She was married for 57 years to the late Gerald Moseley-Williams, who preceded her in death in 2013.
Our mother was active in civic affairs for many years and was a trustee of the Nipissing District Separate School Board for 27 years, serving for many years as chairman. She was the president of the Ontario Separate School Trustees Association, vice-president of the Canadian School Trustees Association, a member of the Education Improvement Commission, and a commissioner of the College of Physicians and Surgeons of Ontario. She was an active parishioner at St. Rita's Church, and later the Pro-Cathedral of the Assumption. For more than 30 years our mother was a vocal supporter, advocate, and friend of the Family Enrichment Program, operated by the Nipissing-Parry Sound Catholic District School Board. She was deeply honoured to be recognized with a Citizen of the Year award by the Davedi Club in North Bay for her contributions to education, the city of North Bay, and the province of Ontario.
Survivors are her sons; Kelly (Venise Levesque), Patrick (Debbie), Bernard (Sharon), Bradley (Stuart Herbert), Dennis (Sherri Cranston) and her 13 grandchildren and 4 great grandchildren. Our mother was a beloved aunt and friend to her many nieces and nephews, with whom she visited, travelled, and corresponded. Her kind and compassionate nature coupled with her friendly and down-to-earth personality ensured that our mother was still making new friends in her 80s. She will be remembered as a kind, compassionate, and reliable friend and confidante to many.
Our mother was predeceased by her father (Maurice O'Rourke, 1968) and mother (Anne Bradley, 1938) and her 8 siblings. From the Congregation of the Sisters of St. Joseph, she was predeceased by Sister Imelda Blais (previously, Sister Mary Carmel) and Sister Bernadette Archer, who contributed so much to our mother's happy childhood.
In lieu of flowers we are hopeful that people will instead consider making a donation in our mother's honour to the Family Enrichment Program, or to a personal cause that makes life better for other people. https://www.npsc.ca/schools/st_joseph_adult_education/family_enrichment.
Friends may call at Martyn Funeral Home on Thursday October 22, afternoon and evening from 2 – 4 & 7 – 9pm. Due to the current Pandemic restrictions imposed by the Bereavement Authority of Ontario those wishing to attend visitation must call the funeral home 705.472.8810 to reserve a time to attend. Wearing a mask and respecting social distancing guidelines is also required.
A Mass of Christian Burial will be held in the Pro Cathedral of the Assumption at 10:00am on Friday October 23, 2020.