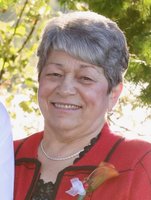 Gilberte Elizabeth Carroll
Carroll, Gilberte (Gil) Elizabeth
It is with deeply saddened hearts the family of Gilberte (Gil) Elizabeth Carroll (nee Laferriere), age 81, announce her peaceful passing on Tuesday, October 13, 2020.
Gil was the devoted wife of John (Jack) Earl Carroll, whom recently celebrated 60 years of marriage on September 3rd, before his recent passing on September 19, 2020. Gil was a proud and loving mother to Lizz (Dave) Cross and the late Eddy (Sarah) Carroll, her grandchildren Tanya, Melissa (April), Jennifer (Jamie), Ryan (Shannon), Tyson (Julie) and her great-grandchildren Angus, Levi, Aster, Eliza and Travis. Gil will be sadly missed by all her brothers and sisters and extended family whom she loved so dearly.
Born on March 12, 1939 at the family farmstead in Markstay, Ontario to Leo and Beatrice (nee Bissonette) Laferriere, Gil was the second oldest of 12 siblings. Her early years gave her an appreciation for hard work, community and family. She was raised to lead a life of faith, a faith that blessed her with an incredible amount of strength, tenacity and sustained her all her life, always counting her blessings till her final days.
Gil was a gentle, kind, genuine, loving friend and "Memere" to all. Memere, Mere, Mama-mere was always there to listen, never missing an opportunity to visit or to laugh and enjoy the company of her family and loved ones. She had an incredible way of only seeing the best qualities in everyone around her …unless you dropped crumbs on her floor!
Gil deeply appreciated the blessings God gave her, always thankful for everything she had. She was so proud of her children, grandchildren and great-grandchildren, beaming at any opportunity to talk about them. She was a natural caregiver to others and spent many years providing care and companionship, through the Red Cross, to those in their final stages of life. She also spent many hours volunteering for her community through her church, at Huron Lodge, the Elliot Lake Food Bank and she gave to others whenever she had the opportunity. Gil yearned to help others as a way to show her appreciation for the blessings and gifts she had been given throughout her life.
In her retirement years, she enjoyed spending time with her family, participating in various social and fitness clubs, and enjoying the outdoors with her husband at the Quirk Lake Seniors' Park. We seek comfort in knowing she has joined her loving husband and her son Eddy, whom she missed dearly, and is now in eternity with her Saviour.
A celebration of life for both Jack and Gil Carroll will be held at a later date.
In lieu of flowers, donations to the Elliot Lake Food Bank or One Kids Place (North Bay) in honour of her great-granddaughter 'Eliza' would be gratefully appreciated.
One Kids Place - 400 McKeown Ave. North Bay ON P1B 0B2