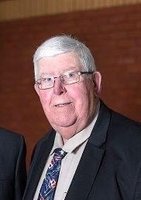 Bryan Edward Manson
Passed away peacefully at the Nipissing Serenity Hospice on Friday, October 9th, 2020, in his 81st year.
Bryan Manson, a native of Niagara Falls, On. Joined CJKL Radio in Kirkland Lake on March 7th, 1957. In May of 1958 he was transferred to North Bay and joined CFCH Radio as morning man. In 1961 he moved into broadcast sales, eventually becoming Sales Manager.
In 1967 Ellen Allhusen consented to become his bride, and they have been blessed with two children, Kimberly (Ian Walker) and John, and four grandchildren,
Cynthia, Sarah, Hannah and Vanessa.
In 1983 Bryan left the broadcast business after 25 years and joined Ted Thomson Investments and has been having fun ever since. He has achieved the Certified Financial Planner, Chartered Life Underwriter and Registered Health Underwriter designations and presently is in partnership with John Manson as The Manson Team at Assante Wealth Management. In September of 2018 Bryan celebrated 35 years as a Financial Planner.
In the late 60's and early 70's Bryan was involved in the North Bay Winter Fur Carnival, acting as Chairman for one year. He became involved with the North Bay and District Chamber of Commerce and served as President in 1973. He was elected to the
North Bay and District Public School Board and served for 3 years.
In 2005 Bryan joined with a group of North Bay people who wanted to bring Habitat for Humanity to North Bay. He became a member of the Board of Directors, and Co-Chair of the Fund Development Committee and was pleased to attend the dedication of the first North Bay Habitat for Humanity home in October 2008.
Bryan became a freemason in 1981, went through the chairs and was installed as Worshipful Master in 1988. He served Nipissing Lodge as Secretary for the next three years. A 32 degree Scottish Rite Mason, Bryan petitioned St. John's Chapter #103 Royal Arch Masons in 1997 and Harington Preceptory #14 later that year. He is a past First Principal of St. John's Chapter. He has served as Presiding Preceptor of Harington Preceptory, was appointed Grand Pursuivant of the Sovereign Great Priory of Canada by the Supreme Grand Master in July of 2006 and was elected Provincial Grand Prior of Algoma District for 2007-2008.
In January 2010 he had his third heart attack, and his pulse was ranging from18 to 28.
While waiting for a pacemaker to be installed, he made his peace with God, and indicated he was ready to go, but if there was still work for him to do, he'd be happy to stay.
Since then he has become active by preaching and leading prayers in his church, the North Bay Church of Christ, and in the past year, Bethel Gospel chapel.
Visitation will be held at Martyn's Funeral Home on Wednesday October 14th, 2020 from 1 p.m.- 4 p.m. and from 7 p.m. – 9 p.m. To reserve a time for Visitation, please call the Martyn Funeral Home at 705-472-8810. Due to the current pandemic restrictions, those in attendance at the visitation must wear a Mask and respect Social Distancing Guidelines. A Private family Memorial Service will be held at Bethel Gospel Chapel. In lieu of flowers, a donation to the Nipissing Serenity Hospice would be appreciated by the family.