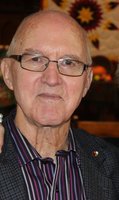 Gregory Rowe Brewer
Brewer, Gregory Rowe
Greg passed with peace and grace on Monday September 28 in hospital after a brief illness. He died with family and friends at his bedside. Greg had just celebrated his 84th Birthday with a drive by celebration that included so many of his friends and family. He loved you all.
Those left behind, but not alone, include his loving wife of 57 years Judi, his three favorite daughters, Tracy (Will), Lesley (Neil) and Laura (Carey) and the grandchildren he loved so deeply; Katie (Jagr) Hayden, Dana, Taylor and Campbell, his sister Bev Broughton and six beautiful nieces. He was predeceased by his parents Reta & Raeburne Brewer and sister Joyce. He valued deeply the meaningful relationship he had with his long time penpal Danielle.
Greg was a role model for the youth in our community as a teacher, coach and advocate. He taught in North Bay for 35 years before retiring and taking on the role of Staff Associate at St Andrews United Church where he continued to live out his faith daily.
Greg loved his community and gave back by volunteering at Meals on Wheels, Phonebusters, Loaves and Fishes foodbank, the Granite Club and many other organizations.
Most importantly, he was a wonderful husband, father and grandpa. He loved deeply and was recently described as "a care full, non judgemental friend, proud dad, earth carer and justice seeker"
The family would like to thank Dr Abeysinghe, Dr Kistemaker and Nurses Rachel, Calvin and Linda for their compassionate care.
A private family ceremony will happen with a Celebration of Life when the world allows. Donations welcome to St Andrews United Church, The Alzheimers Society or All Heart Pet Rescue. Arrangements entrusted to MARTYN FUNERAL HOME.