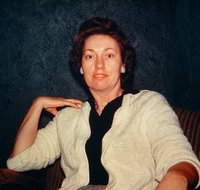 Hazel Andrews
Hazel (Dingley) Andrews
December 29th 1921 – September 28th 2020
It is with deep sadness that we announce the passing of our dear mother Hazel (Dingley) Andrews in the early hours of Monday September 28 in her 98th year. She was predeceased by her husband Ted after more than fifty years of marriage and by her parents Samuel and Fanny Dingley and four siblings Ethel, Wilfred, Doris and her twin brother Harold.
She will be greatly missed by her children Richard (Rick) Andrews (Patricia), Alan Andrews (Wendy), Barbara Andrews and Stephen Andrews (Christine).
Nana will also be very much missed by her grandchildren Christopher (Christine), Britany (Tim), Graeme (Stefania), Holly (Craig), Jillian , Samantha , Erica ( Nick) and also by great grandchildren Ethan, Gavyn , Simon and Alessandra.
Hazel had a rich full life doing what she loved, taking care of her family. She met and married her beloved Ted in Calgary during the 2nd world war and moved with him to his home town of North Bay after wars end to raise their family. She loved to work in her and Papa's gardens and also spent countless hours preserving and freezing the summer's bounty for winter. She was a marvelous cook and baker and could make a great meal out of anything. Her soups were wonderful especially on a cold winter's day. Nana and Papa's was the place to be for a Friday evening supper or a fresh from the garden toasted tomato sandwich and a cup of tea.
Hazel was a long time member of the Women's Institute and the United Missionary Church where she produced the church bulletin for a number of years. She also produced all the fresh pies for Pinewood Park for a number of years, baking as many as 20 pies a day, no easy feat in a wood burning stove.
Her family was everything to her, she and Papa, were always there in a crisis or just to baby sit the kids so we could have a night out. Always gentle and kind, never speaking ill of anyone, she lived her life as she believed. You reap what you sow.
She never complained and was rarely sick and if she was it was hard to tell as she would always smile and say I am "A" 100 percent even if she was deathly ill. That's just who she was, the epitome of grace and dignity
We will miss her so much but will also be content in knowing that she is reunited with Dad and they are working once again together in their garden.
Much thanks to the staff at Casselholme for the great care they provided Hazel over the last two plus years.
In keeping with her wishes her body has been cremated. A private interment service will be held in Forest Lawn Cemetery. If desired donations to the charity of your will be gratefully acknowledged as expressions of sympathy. Arrangements entrusted to Martyn Funeral Home with online condolences at www.martynfh.com