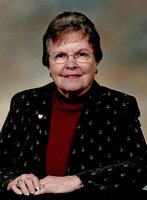 Winnifred Isobel Nicholson
Nicholson – Winnifred Isobel
Winnifred's family sadly announce her unexpected death at the North Bay Regional Health Center on Sunday September 20, 2020. She died peacefully following a sudden illness, while in her 92nd year. Winnifred was the dearly loved wife of the late Marvin William "Bill" Nicholson, who predeceased her in 2000. She was the proud and loving mother of Mark and his wife Kathy, and the cherished grandmother of Dawn and Bill, all of North Bay. The youngest of sixteen children, she was predeceased by her parents Arthur and Sarah Prouse. Siblings Milton, Edgar, Lorne, Ella, Victor, Verna, Hilda, Doris and is survived by Gladys Inglis and Russel Prouse.
Bill and Winifred began their married life in Toronto, moved to the Maritimes for several years and settled in North Bay in the late 1970's. Winnifred was an avid card player, enjoying cribbage and bridge, which later in life she enjoyed online. She enjoyed curling in Nova Scotia and at the North Bay Granite Club. She will also be remembered as a member at Emmanuel United Church and of the Red Hat Society. Cremation has taken place and her ashes will be interred with Bill's in Forest Lawn Cemetery at 9:00am on Friday September 25, 2020, with Rev. Roni Beharry officiating. "In lieu of flowers, donations to the Lung Transplant Program at the Toronto General & Western Hospital Foundation would be appreciated by the family. Please visittgwhf.ca/tribute or call 416-603-5300."
Arrangements have been entrusted to Martyn Funeral Home with online condolences at www.martynfh.com.