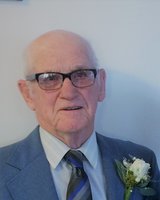 Joseph Conrad Therrien
Joseph Conrad Therrien passed away peacefully at Mattawa Hospital on September 4, 2020 after a brave and valiant struggle against cancer. He was 94 years of age.
Conrad will be greatly missed by his wife, Ethel (née Montroy) as well as by his son, Gerard and daughter-in-law, Pauline. Fondly remembered by his grandchildren Samantha and Robert (Katherine) and great-grandchildren Sidney and Madison. He leaves behind a niece, Lorraine and nephew, Laurier(Sandra) , numerous stepchildren and their families.
He will also be sadly missed by many relatives and friends.
He was predeceased by his wife, Annette (née Tremblay); wife, Yvette (née Lamothe); brother Fernand and parents Wilfred and Laurentia Therrien.
Conrad was a career employee of the Canadian Pacific Railroad. After 39 years as a mechanic, he retired and spent his time fishing, hunting, gardening and chopping wood – activities he enjoyed and did well into his 90's.
He was a lifelong member of the Fourth Degree Knights of Columbus Albanel Assembly 859. For as long as he was able, he was actively involved in St. Anne Parish where he volunteered as a collector and funeral server.
Conrad will be remembered as a loving husband and kind and gentle person, who was a wonderful influence and example, not only to his family but to all who knew him.
During this unprecedented situation of the COVID-19 pandemic, it is with very heavy hearts that the family has made the difficult decision to hold a private funeral. Conrad will be buried in the family plot at St. Anne Cemetery.