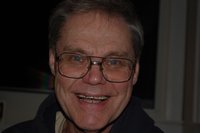 Kenneth Gordon Peters
PETERS, Kenneth Gordon
1944-2020
After a sudden and short illness.
Ken started writing his own obituary in hospital—no-one who knew him will be surprised. He was unable to finish it, but this first part is all his.
"Writing my own—taking charge to the end.
Son of Gordon Peters, who provided discipline, and encouraged Ken's love of gardening, especially potatoes—Ken won a first-prize ribbon at the Carp Fair one year when he was living nearby. And of Sarah (Sadie), loved and always loving and supportive mother.
Ken loved studying. He graduated from the small Phelps Central school in Redbridge. Proud of, and staying attached to, his home community to the end.
A graduate of Chippewa Secondary School, with honours, winning all the math and science financial awards in his final year. OAC had challenged all Grade 13 students in Ontario to a math and science test, with the prize of a visit to the college campus. It changed Ken's mind about becoming a game warden. He left OAC during his second year after developing an interest in psychiatry.
Greatly missed by his brothers Miles (Debbie) and William, and sister Gayle, and proud of their achievements." Also missed by many nephews and nieces, throughout North America: Randall (deceased), Ryan, Aaron-Kane, Stacia, Nathan, Sarah, Naomi, Tess.
And that's as far as Ken was able to get.
Ken was born in Chatham. The family moved to Redbridge in 1953. After leaving OAC, Ken graduated from Western University (B. Psych), (M. Psych), and McGill (Phd. Psych).
Ken loved living in the country, and returned in 1987 after studying, living and working in Sudbury, Vancouver, Montreal, and Ottawa, as a much-respected professional. In North Bay, he worked again as a clinical child psychologist. After retirement, he picked up a childhood and life-long love of taxidermy, and became a busy and award-winning professional in wildlife art.
He loved sports, most especially fastball, everywhere he lived—at one time, playing on three teams at once. He had a life-long love for and involvement in all low-impact wilderness activities: (fishing, canoeing, sailboarding, kayaking, exploring the bush, camping), and was a devoted outdoorsman. He was also a keen and competition-level SCRABBLE player.
He had an enduring commitment to environmental issues, supported them financially, in advocacy, in political involvement, and in action. He started a highway cleanup program in his neighbourhood, on Mother's Day a number of years ago.
He is the greatly missed, and very dear father of Eric Peters (Ingrid D'Silva), and Grandpa of Alex, Chelsea, and Naomi D'Silva Peters.
Deeply missed husband of Kathy Kilburn.
Missed also by many friends locally, and around the world. His abiding sense of fun, and play, is a loss for all of us. He was, to quote a relative, "a character", in the best sense of the word.
The families' gratitude is extended to Dr. Kistemaker, Ken's physician, to Dr. Jinnah, who saw him peacefully through his last weeks, and to the staff of the Regional Cancer Centre in Sudbury, and of North Bay Regional Health Centre, most especially on B3 and C3. Ken so often spoke of you as his angels, and indeed, you were.
Cremation has taken place, according to Ken's wishes. A gathering to remember Ken, and celebrate his life, will be held at a later date. If you wish, donations in his memory may be made to causes that were dear to Ken's heart: Council of Canadians, Plan Canada, the Green Party of Canada, the federal NDP, or the Humanitarian Coalition.
My Mother's Hands
I sit at your bedside
Watch you take those final breaths of air,
And study your hands.
These hands that held me close
As I drew my first breath,
And you marvelled at your creation.
These hands that fed me,
Bathed me, soothed me,
And protected me from harm.
These hands that dressed me,
Packed lunches, mended clothes,
And spanked me once or twice.
These hands that wrote to me,
Typed my essays, played cards,
And signed all those birthday cards.
These hands that waved goodbye
And set me free to fly alone,
But made cookies when I returned.
These hands that held my own new child
As dearly as your own,
And nurtured once again.
These hands are loving, soft, and giving--
Aging never stopped your offerings,
And Death will not end your legacy.
Ken
My Uncle Eternal


Sending you love from the western seas

I always hoped you would be proud of me.

Life is a wave that does not end,

It becomes water.


I felt your love from the first look.

You reminded me again with your books.

You paved a path that I could follow,

To use your mind despite the sorrow.


I have drifted to sea

And landed upon my own island.

The early days in the canoe

Surely helped with the voyage.


The pain of yesterday

Brings new strength in the morning.


I wish you peace, still quiet waters.

You will be in our hearts always,

Uncle, brother, father, and husband.
Tess