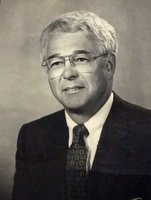 Peter Randle
RANDLE, William Stuart (Peter)
It is with deep sadness that Peter's family announces his passing on August 1, 2020, in his 84th year, at the North Bay Regional Hospital. Peter was born in Meaford, Ontario, son of Denelda and Arthur Randle. Peter is a graduate of the class of 1964 from McMaster University. He was the assistant captain of the CIAU champion varsity hockey team leading them in scoring. Thereafter he settled back in North Bay where he proudly taught at West Ferris Secondary School for more than 30 years.
He will be lovingly remembered by his wife, Helen (Brunette), his children John (Ola) Randle, and Susan (Petar) Ostojic. Peter was a proud grandpa to his granddaughters Rebecca and Samantha Randle and Poppa and best pal to his grandson Ben Ostojic. Peter will be fondly missed by his siblings Ann (Peter) Conacher, James (Mary) Randle, his niece Emily Randle, nephew Joe Randle, his in-laws Jeannine (Victor) Rota, Moe (Barbara), Annette (Rene - deceased) Corbeil, Ray (Jewel Ann - deceased), Andre (Gillian - deceased), Claude (Natalie), and forever in the hearts of extended family, nieces nephews godchildren and friends.
"It wasn't the words he said but how he made you feel"
Peter was a family man, teacher, and a friend. Although it was also his profession, he was a life-long teacher, never retiring from the role of mentor and coach. He was able to inspire his students to be not only the best athletes but more importantly the best people they could be. Everyone strived to be better under his openly caring mentorship. He received many awards, but his greatest success was seeing all those he taught to achieve success themselves.
As a parent and partner, he was unconditionally loving. He was a proud and patient grandfather tirelessly releasing fish caught off the dock under his tutelage at his beloved cottage. He loved the outdoors and was always the first in the lake.
He was a true friend. He always made time for everyone, never missing an opportunity to tease in his good-natured way. Quick trips to the local stores often turned into epic social events as he stopped to talk to what seemed like everyone. At home, he was always "keeping in touch" with friends and family as the portable phone seemed to have been invented just for him.
He will be missed, but a little bit of him will live on in the countless lives he enriched during his time.
The family would like to extend a heartfelt thanks to Drs. Mike Leckie, Melissa Stacey and Tom Wallace, Lori Smith (OT) and the nursing staff on C3 for their kindness, compassion and care.
Peter's funeral will be held at Martyn Funeral Home on Friday August 7, 2020 and due to the current restrictions imposed by the Bereavement Authority will be by invitation only.
The family would respectfully request that donations in Peter's memory be made to The Canadian Cancer Society or the North Bay Regional Health Centre. Online condolences may be offered at www.martynfh.com