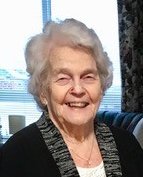 Helen Mary Hunter
HUNTER, HELEN MARY (nee GILL)
On Aug 1, after a brief illness (not covid) at North Bay Hospital, Mom passed away peacefully in her 93rd year. She was the daughter of Albert and Alice Gill and was predeceased by Gerald (2010) her husband and the love of her life for 62 years, and son Ken (1970). Forever remembered by Clyde (Sherry) and Gill (Karin). Grandkids Kristy and Greg (Anthea) along with Great Grandson Owen. Special mention to Tex (he's not my boyfriend) who was a special person in her life for the past 5 years.
Thanks to all Doctors and Nurses who took good care of Mom. There will be no service in North Bay as at a later date internment will take place in Springhill NS. In lieu of flowers donations to charity of your choice would be greatly appreciated.
Mom started her life in Beverly Alta, now part of Edmonton. One of 4 siblings she enjoyed her times with Pauline, Ray and Teddy. As a young lady she would go to dances and there her eye caught a dashing handsome military fella who became her life long companion. Mom and Gerald married in 1948 in Edmonton. Mom raised 3 boys and was the ultimate military wife. She never complained about all the moves including Nfld, PEI, Montreal, Ottawa, Edmonton and ending up in North Bay back in 1967. Living on Trout Lake she enjoyed building her beautiful home with Gerry. In 1970 tragedy struck with the passing of son Ken (with best friend Rob Cameron). This event shaped Mom and Dads lives for years to come. Over the years Mom enjoyed curling, cheering for leafs, Rama, cooking cookies, ABBA ,cards and of course dancing …After Dads retirement they spent many a winters in Dunedin FL. Mom stayed in the house after Dads passing but 5 years ago movedinto Marina Point where she became a "Princess in a Palace". She loved it there! She trulyloved playing cards and dancing with her new boyfriend Tex. Thanks Tex, you made Moms final years fulfilling and meaningful.
Special thanks to Dr. Abeysingh who Mom cared for deeply.
Finally anyone who knows Mom knows she was with it till the end. We can only hope to be so good at her age. Mom knew how things were at the hospital, she decided to let nature takes it course and in the end she died in peace. She will rest in peace back with Dad. To all of Moms friends out there reading this, Thank You. Making Mom part or your life enriched hers and she treasured them all. You will be missed.