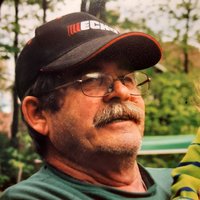 Donald James Richard "Dick" Burton
It is with heavy hearts we announce the passing of Richard "Dick" Burton.
On the morning of Friday July 31st, Dick passed away at North Bay Regional Health Centre.
Proudly born in Mattawa, Ontario, (with the sizable tattoo to prove it), Dick received his parents' (Marie and Robert) blessing to enlist in the Canadian Armed Forces at age 16. He rose through the ranks as an electrical mechanical engineer, repairing heavy machinery in climates ranging from Baffin Island to Cyprus and Egypt.
One of his many postings was Lahr, Germany. This is where he met his wife Annemarie. They and their two daughters lived between Germany and Canada for years before finally landing contentedly on Airport Road in North Bay, Ontario.
As a skilled handyman and colourful storyteller their sturdy home was warmed with laughter as much as it was by woodstove.
An outspoken man, he had little time for bologna unless it was nestled between two slices of bread.
The army tattoos, the virile moustache, the rotating scent of sawdust and motor oil could not mask his soft heart underneath. He has shed tears of joy and sadness more times than he would ever admit. As much as he may have been uncomfortable crying in front of others, he was more uncomfortable with others crying over him. Therefore, he has chosen to forgo any formal funeral service or viewing. In lieu of flowers, you can make a donation in his name to the Royal Canadian Legion. Branch 254.
Royal Canadian Legion Branch 254
360 Hurdman Street
Mattawa, ON.
P0H 1V0
A note to family and friends: If you happen to have any of Dick and Annemarie's homemade jam, beans, maple syrup or wine left in your home, open it up and toast in celebration of a life lived. The life of Richard Burton.
Dick is survived by his wife Annemarie, daughters Angela (Dennis), Tessie (Derek), three grandchildren Daniel, Thomas and Ginny.
In closing, Annemarie Burton would like to share a German poem that has brought her and family comfort in the face of the loss of a loved one.
Es weht der Wind ein Blatt vom Baum,
von vielen Blaettern eines.
Dies eine Blatt, man merkt es kaum,
denn eines ist ja keines.
Doch dieses eine Blatt allein,
war Teil von unserem Leben.
Drum wird dies eine Blatt - so klein -
uns immer wieder fehlen.
A celebration of life is being planned for a future date, to be determined.