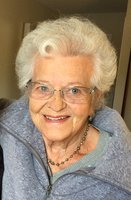 Nelly Solway-Ross
On July 2, 2020 our Mother, Oma, Oma-Oma, Nelly Solway-Ross (Van Beekum) passed away at Cassellholme at the incredible age of 98.
Predeceased by her husband Sidney Solway (1980) and Chuck Ross (2002) ; 3 brothers and 4 sisters.
She is survived by her two daughters; Joann Dube (Ron) and Karin Solway, her 4 grandchildren; Brent Dube (Jessica) and Tricia Dube (Jodi), Greg Leahy and Shannon Leahy, and 6 great-grandchildren; Maya and Sidney Dube, Brooklyne Alexander (Robbie), Braden Leahy, Sam and Danny Xenis.
Born in Hilversum, Netherlands on April 10, 1922, Nelly was the 6th of 8 children. She met Sid in May of 1945 after the WWII liberation of Hilversum and were married December 17, 1945. Sid was shipped to his home in Engelhart, followed by Nelly a few months later, eventually settling in North Bay where they raised their family.
She worked in retail for over 25 years, beginning at Eaton's, Walker's, Marks and Spencer before retiring from Princess Fabrics. In her spare time she was a talented crafter, excelling in knitting, sewing and crocheting. Her grandchildren received numerous sweaters over the years from Nelly"s flying knitting needles. More recently crocheting placemats and dish cloths became her specialty. She was always ready for a good party with family and friends which would usually include a rye and water.
After Sid's passing in 1980, Nelly began joining friends in Florida for the winter months. She enjoyed her active life in Florida becoming a champion Bocce player, long evening walks with the girls and playing cards.
In 1998 she married Chuck Ross in St. Petersburg, Florida and they began commuting between North Bay and St. Petes.
Nelly was an incredibly independent person into her 90's. She will be remembered for her energy, sense of humour and lively spirit.
Her family would like to extend their immense gratitude to the staff of Cassellholme for their compassion, guidance and support through the last 4 years of Nelly's life. The staff of Maple Street went above and beyond to keep Nelly's family involved in her care during these last months of extreme circumstances.
At Nelly's request and COVID-19, there will be no visitation or service. Cremation has taken place with interment at Terrace Lawn Cemetery, North Bay, Ontario.
In lieu of flowers, if friends so desire, donations may be made in Nelly's name to the North Bay Food Bank.