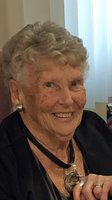 Irma Claudette Hewitt
Hewitt - Irma Claudette
At her home, North Bay on Sunday May 3, 2020, at the age of 86 years. Irma C. Leigh was the beloved wife of the James Frederick "Jim" Hewitt who predeceased her in 2002 They had been married for the 48 years at the time of his death. Proud and loving mother of Leigh (Sandra) of Kelowna B.C., Mark (Nancy) of North Bay, Bill (Lauri) of Callander, Karen Benoit (Guy) of Kingston and Kirk of North Bay. Irma will be lovingly remembered by her ten grandchildren and fourteen great grandchildren. Dear sister of William Leigh of Callander and David Leigh (Margaret) of Mississauga. A dedicated wife and mother Irma will be sadly missed by her family and friends. Mom died peacefully overlooking the lake she so much enjoyed. Respecting her wishes cremation has taken place. Her ashes will be interred in the family plot in St. John's Anglican Cemetery. If you'd like to honor her memory with a memorial donation, please consider the Canadian Cancer Society. Arrangements have been entrusted to Martyn Funeral Home with online condolences at www.martynfh.com.
I'd like the memory of me
To be a happy one.
I'd like to leave an afterglow
Of smiles when the day is done.
I'd like to leave an echo
Whispering softly down the ways,
Of happy times, and laughing times
and bright sunny days.
I'd like the tears of those who grieve
to dry before the sun
Of happy memories that I leave
Behind when the day is done.