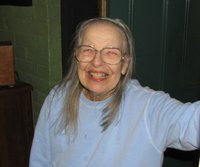 Thelma Dorothy Robinson
Thelma Dorothy Robinson (nee Grady) 1926-2020
In the late hours of February 11 Thelma passed away at the North Bay Regional Health Centre. Thelma was the devoted wife of the late Lloyd Robinson and mother to Linda (late) and Bill.
A long time resident of Green River she moved to Bonfield to be with her son Bill after Lloyd's passing. Thelma was born in Toronto and grew up on Dawes Rd. with her siblings Eileen, Jim and Bill. She was the last surviving member of the group.
Thelma was a great storyteller and she had many colorful reminiscences about her childhood.
She loved children and she loved all animals, great and small, especially dogs.
A cancer survivor of twenty years, she was grateful for her "extra time" and tried to make the best of it.
Thelma was a great person and she will be missed by all who knew her.
On her behalf I would like to thank all her old friends and neighbors in Green River and new friends in Bonfield, who assisted her on her life's Journey.
Special thanks to her nephew Russell who was always there for appointments, hugs, and hand holding.
Thanks to NBRHC, Northeast LIHN and Dr. Locke, all of whom provided excellent care.
Cremation has taken place. Anyone wishing to remember Thelma with a tribute should donate to a charity of their choice. The family has requested that you don't send flowers. Arrangements entrusted to Martyn funeral home North Bay with online condolences at www.martynfh.com