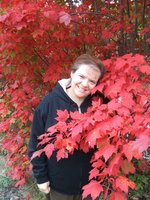 Lynn Ann Mary Turcotte
I, Lynn Turcotte, of Mattawa, have left this earthly life at the age of 59, from a brain tumour. Yup, I'm one of the poor schmucks to meet an early demise. I wanted to write my own obituary, in my own words.
I was lucky enough to find the love of my life when I was 15 years old – Mike (Mikeeee to me) Westley. Mike and I met in high school on an Outdoors Club canoe trip in Algonquin Park. Sitting around the campfire, eating rosebud chocolates and talking into the night, we knew we were destined to be together and we've had a fantastic 39 years as husband and wife. Thank you, Mike, for being the angel on earth, not only to me and our children, but to all who know you.
Mike and I have had many chapters in our lives together. Our early married life was working and living in remote Northwestern Ontario and Manitoba communities. Then, with me being so homesick for Mattawa, we moved back in 1988. From there I had a flourishing real estate career for 26 years. I always tried to help my clients with integrity and hard work.
Mike and I were blessed with two wonderful, lovely daughters:
Rebecca – so curious, hardworking, adventurous and a force to be reckoned with in her field of mining engineering.
Laura – also adventurous and so caring and so interested in the history and future of mankind.
After Mike returned to teaching, he worked in several remote communities. The last few years we were both blessed to work and travel in the Northwest Territories. I taught sewing to the ladies and youth of Gameti, NWT. This had a profound effect on them and me.
I was so fortunate to experience a bucket-list trip the summer of 2019 – a 19,000 km camping trip throughout western Canada and Alaska. Through the years we have seen many parts of Canada and it truly is one of God's most wonderful creations.
Our love of kayaking has brought us to some of the most spectacular places with our favourite being the north shore of Lake Superior. The rocks, trees and water of Lake Superior are unparalleled.
I am also one of the strange ones that absolutely LOVES winter. The crisp air and the glittering whiteness of the snow brings a purity of heart upon the land and a renewal to our lives. Winter, to me, is so invigorating.
I have loved sewing, cross stitching, and all outdoor adventures. I was also a volunteer in some capacity most of my life. I especially enjoyed my years as a Girl Guide leader.
I was born the 10th of 11 children to Sidney and Colette (nee Nadon) Turcotte. I am predeceased by my parents and sisters Claudette, Catherine and Joan.
I am survived by my husband, Michael Westley and our two daughters, Rebecca and Laura and also Max Ongaro (Joan's husband), Jean (Peter Harcus), Jess Lance (Johanne Cuerrier), Anita, Earl (Anna Harmathy), Colette (Peter Stanisci), Michael (Rhonda), Glenn (Debbie) and many in-laws on the Westley side and many nieces and nephews. I also leave behind many good friends in Mattawa and across the country, especially my sister Anita, Carol Wegner, Anne-Marie Smith, Milczarek family, Jackie Lalonde and so many others. Thank you for being part of my life.
My life with Mike has been a loving, fantastic, glorious adventure blessed by God. As I sit with God, I will thank Him for the great life I have had, even with the many challenges. Then, I will be off visiting those I know and making new friends and probably organizing a sewing or kayaking group.
If you wish to make a donation, I would love to hear the church bells ringing again, so a donation to the St. Anne's Church Building Fund is greatly appreciated.
Arrangements are as follows:
Visitation will be held at the Martyn & Sloan "Mattawa Chapel" on Friday February 7th from 2-4 & 7-9:00 P.M. A Mass of Christian Burial will be held at St.Anne's Roman Catholic Church on Saturday February 8th at 11:00 am. Cremation with interment of ashes this spring at St.Anne's Cemetery.
Lastly, ask yourself 'What have I done for someone else today?' It's so important we care for each other and don't forget to laugh!
Go Leafs Go and everyone ROCK ON!!!!!