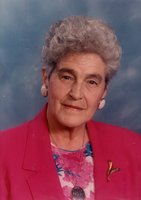 Lillian Elizabeth Stewart
LILLIAN ELIZABETH STEWART (nee SULLIVAN)
October 9, 1924 - June 4, 2019
It is with heavy hearts that the family of Lillian Elizabeth Stewart announce her passing on June 4, 2019 at the Georgian Bay General Hospital in Midland, Ontario at the age of 94. Pre-deceased by husband James Stewart and son William ("Willie") Stewart and by her loving parents William and Susan Sullivan, sisters Tressa and Ilene and brothers Leo, Roy and Bill. Survived and dearly missed by her daughters Heather Dent and Serene Derasp (Derek). Loving mother-in-law to Yvette (Cloutier) Stewart, Derek Derasp, the late Douglas Dent and former mother-in-law to John Bridges. Cherished Grandma of Susan Ellery and Dr. James "Jamie" Stewart, Bill Dent (Shalimar), Blair Dent (Jen), Melissa Derasp-Andrews (Sean) and Lori Derasp (Rob). Treasured Great-grandma (a.k.a. "GG) to 11; Dana, Kelly-Ann, Renee, Gabrielle, Caitlin, Justina, Vivian, Elizabeth, Jayden, Marek, Breah and loving step-GG to Nate and Zach. Great-great grandma to Charlie, Arthur, Aubrey, Holly, Jackson, Luca. Loving sister-in-law to Cleda Sullivan. Special aunt to many nieces and nephews on the Sullivan side, and especially adored by nieces Marlene Matte (Dennis), Barb Donoghue (Jim) and Marlene Briskin (Allan). Lillian was an amazing mother and excellent role model for her children.
Lillian was born in Saskatchewan in 1924 – and moved with her family to Timmins in the 1930's. In the 1960's, she had moved to North Bay and remained there for most of her life. She returned briefly to Timmins, before resettling once again in North Bay. Health issues prompted a move in 2015 to Penetang, Ontario, in order to be closer to her daughters. She adapted quickly and happily to her new apartment at Bayfield House Retirement Lodge, where she was respected by residents and staff.
Lillian had weathered many storms earlier in her life, including the death of her only son William at a young age. This was a difficult time for her, but she found strength and comfort in her faith - and in the love of her remaining children and grandchildren.
Lillian held down jobs in Timmins (Advertising Rep and Reporter for Directories North/TV Nite publications) and as Seamstress for Zellers (in North Bay), but the role that Lillian felt to be her most important in life was that of being a mother (which she excelled at). Lillian had her share of sadness in life, but she chose to focus on bringing joy to others with her countless acts of kindness. Lillian was a good listener (our "Port in the Storm"), a trait which endeared her to many, offering words of wisdom, encouragement and support. She remained engaged and genuinely interested in the lives of those she held dear. She was our guiding light – an excellent example of a true Christian. She often put the needs of others, before her own.
Lillian was a talented seamstress throughout her entire life, who loved to sew for family members and friends. She lovingly made Christening gowns for great-grandchildren, countless outfits and the wedding dress that daughter Serene wore on her wedding day. She wore out several sewing machines in her lifetime. She was also an avid knitter, who volunteered her skills at the Golden Age knitting club, knitting items of clothing that were donated to various organizations to keep others warm.
Lillian delighted in receiving visits and phone calls from family and friends and looked forward to their news. She was at her happiest when attending family events, including weddings, birthday celebrations, graduations, plays, dance recitals, gymnastics, skating competitions, swimming practices and hockey tournaments of her children, grandchildren, great-grandchildren and great-nephews. Lillian was proud of the accomplishments of those in her family. However, Lillian's legacy of love extended beyond that of family, to include friends, former nurses and neighbors (and many kept in contact after she moved to Penetanguishene). Despite her many health issues in later years, she kept a positive attitude, citing the bible verse "a cheerful heart is good medicine".
Lillian read her bible regularly and "lived her faith" everyday - with her actions, words and deeds. One of these acts of kindess was making large batches of her famous (and delicious!) shortbread cookies every Fall, which she ensured were distributed to family and friends before Christmas (this was an annual event that she lovingly insisted on doing, right up to and including this past Christmas).
Lillian enjoyed listening to music, including gospel and various other genres. She had a wonderful sense of humour and enjoyed a good belly laugh. She even belonged to a Joke Club, which met every Friday afternoon at the Lodge where she lived. Lillian always took care of her appearance, had a smile on her face and a pleasant word on her lips. She remained "young at heart" her whole life. Her presence in our lives was a special gift (which we will keep forever treasured in our hearts), as she truly made a positive impact in the lives of everyone she touched.
Mom was a thankful soul, who expressed sincere gratitude to our Lord and Savior for her blessings in life – and verbalized this often. She felt especially thankful to him for placing Dr. Randeep Dhami (of Sudbury at the time) during a critical time in her life, who diagnosed a heart condition in 1990, which required life-saving open-heart surgery. This surgery resulted in her having 29 more "bonus" years in which to enjoy precious moments with her family, extended family and friends (memories we will cherish always). Mom considered this a priceless gift, as did we.
Mom also expressed gratitude for her doctors in North Bay (Dr's Rankin, Halpert, Graham and Goldfarb) for their medical care, as well as Dr. G. Gaffney (Penetanguishene) for his timely interventions with health issues, which she believed help to extend her years - and quality of life. She greatly respected the medical advice and urgent care she received from her grandson Dr. James Stewart. She also sincerely appreciated the daily nursing visits from the V.O.N. (North Bay) and later the Bayshore Nurses (Penetanguishene), which allowed her to stay in her own place independently for many years, with minimal but important medical assistance which she required. This greatly improved her health status in her golden years.
In the weeks leading up to her death, as Lillian's precious heart was wearing out, she was surrounded by family and friends, who reminded her of their admiration and love for her – and she was able to verbalize her undying love for them, in return. This, in itself was a gift from God. Lillian left her earthly home knowing that she was well-loved by us.
Mom's last words on this earth were "thank you" - to a nurse (so typical of our beloved Lillian). Lillian has truly been a source of inspiration; as a loving mother, Grandmother, Great-grandmother, sister, Aunt, friend - and as a Christian who loved her Savior with "all her heart, all her mind and all her soul". She succeeded in honoring our Saviors request that we "love one another, as I have loved you".
Our sincere thanks to Pastor John Limmer (of The Covenant Church in Penetang) who prayed with us in the days preceding mom's passing. This provided great peace and comfort to mom.
In accordance with mom's wishes, a memorial service will be held on Monday July 22, 2019 at Martyn Funeral Home, 464 Wyld St, North Bay; Visitation begins at 11 am, with memorial service at 11:45 am, followed by a luncheon/reception at 1 pm. Burial of Lillian's ashes will be at 3 pm at Terrace Lawn Cemetery.
If desired, donations can be made (in memory of Lillian Stewart), to the War Amps (CHAMPS) Program, which provides artificial limbs for child amputees (thus allowing them to participate fully in activities and make memories with their family and friends). This would make Lillian very happy.
Further details can be obtained by contacting Martyn Funeral Home at 705-472-8810